Written by Bathandwa Mbola and Ongezwa Manyathi
The remains of 74 South Africans, who died when a multi-storey guest house of the Synagogue Church of All Nations in Nigeria collapsed over two months ago, have been returned home.
More than a 100 people, most of them South African, died in the collapse. Since then the South African government has been working with the Nigerian government to bring the remains home.
An 80-member specialist team from the Department of Health, the South African Police Service and the South African Military Health Service, among others worked hard to identify the bodies in Lagos, Nigeria.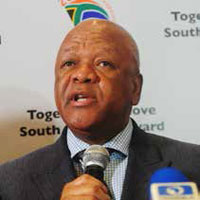 Chairperson of the Inter-Ministerial Task Team, Minister Jeff Radebe, said the government team in Lagos would continue to work around the clock to identify the remaining South Africans and ensure their speedy repatriation.
Minister Radebe met with the Nigerian Federal Government authorities, as well as Lagos State authorities to speed up the process.
South Africa agreed to repatriate three Zimbabwean nationals and one from the DRC who were travelling on South African passports.
The lengthy process to identify the bodies was made difficult by the nature of the incident.
"The bodies of 11 other people from South Africa still have to be positively identified in Lagos and will be repatriated later…the job has not stopped for us," said Minister Radebe.
Family members of the victims travelled to Pretoria to be part of an official reception, which was led by Deputy President Cyril Ramaphosa last month.
At the end of the formal reception ceremony, the mortal remains were transported by road to government Forensic Pathology Services mortuaries in the different provinces.
From there, the mortal remains were transported to the government mortuary closest to the place of burial where they were received by their next-of-kin.
Individual families continued with their own private funeral arrangements.
Nigeria and South Africa have enjoyed cordial relations for many years and this tragedy has brought the two countries even closer and our relations will remain strong.