Gabi Khumalo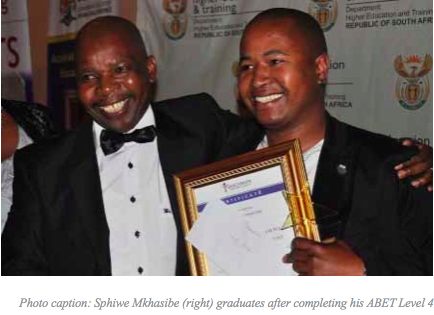 Thanks to Adult Basic Education (ABET), Sphiwe Mkhasibe, 28, was given a new lease on life. While in high school, Mkhasibe had a drug and alcohol problem that prevented him from completing matric. However, doctors at a rehabilitation centre in Johannesburg gave Mkhasibe a second chance by encouraging him to enrol at an ABET centre. Although still on his road to recovery, Mkhasibe proudly admits that his life has changed. Not only has he completed his Level 4 at City Deep Adult Education Centre in Johannesburg, but he has also discovered other talents such as playing soccer and cooking for 160 residents at the centre where he lives.
New beginning
"When the facilitators and psychologists at ABET centre motivated me to go back to school, I thought I had nothing to lose and decided to do it. Now my life has changed for the better. Not only did I receive an education, I've also started a soccer team at the rehab centre."
"They encouraged me to take part in com- munity activities so that I can become a better person and understand more about myself. I'm now a captain of our soccer team. We compete with other health institutions. ABET is not only about studying, you also gain life skills and improve other skills such as computer skills," Mkhasibe said.
He was one of the adult learners honoured by the Adult Learning Network (ALN) during an adult learners week awards ceremony held on 8 September at White River in Mpumalanga. ALN is a non-profit organisation established in 2002. The organisation has a national networking structure that promotes adult literacy, adult basic education and lifelong learning in South Africa and internationally. It works in partner- ship with the Department of Basic and Higher Education as well as training departments, Umalusi and SaQa.
The awards set the stage for the celebration of outstanding achievements of national winners. Adult learners, facilitators and deserving projects were awarded and showcased as best category and challenged other adults who didn't complete their education by going back to school to enrol for ABET. "Education is for everyone; let's go back to school. Even if your peers laugh at you, don't be discouraged because drugs take you backwards and affect your brain, and ultimately your success in life. "
Right now his goal is to become an artisan since there is a shortage of artisans in the country.
Speaking on behalf of Mpumalanga Education MEC, Reginah Mhaule, the Department's Deputy Director-General, Lucy Moyane, said it is important to acknowledge that literacy is an important tool towards the achievement of the Millennium Development Goals. She said education centres were essential to eradicating poverty, reducing child mortality, achieving gender equality and ensuring sustainable development, peace and democracy in the world. The theme "Adult Learning and Skills Development for Better Life" is significant in addressing the priorities of government – inequality, unemployment and poverty.
ABET institutions
There are 3 083 public adult learning centres in South Africa. Some 257 of them are in Mpumalanga where they provide adult education and training. For government to move forward and implement policies, Moyane said there was a need to take stock of what government has been doing over the years. She said there was a need to ask basic questions, such as: Have they been able to achieve their set target? To what extent have they provided quality programmes in the centres? Was there management of a required standard and were personnel equal to the task?.
"Let's appreciate the scope of work covered since the Department of Higher Education and Training was established in 2009. The department had to relook at the nature of post-school education to address the plight of the youth and adults. This was reflected in a study by the Centre for Higher Education, Transformation and Fellow Education and Training, according to which 2,8 million youths were unemployed or did not have a proper education or training.
Other adult learning network award winners included:
The Ambassador's Award; in recognition of his distinguished contribution to the promotion of lifelong learning and adult education in South Africa: Sipho "Hotstix" Mabuse.
The Outstanding Achievement Award in recognition of their distinguished contribution to the promotion of adult literacy or adult education in South Africa: The KHA RI GUDE Literacy Campaign.
Best Learner
1st Place: Sphiwe Sifiso Mkhasibe from City Deep Public Adult Learning Centre (PALC) in Gauteng.
2nd place: Isak Botha from Matie Community Service in the Western Cape.
3rd place: Zandile Kubheka from Ilungelolethu PALC in KwaZulu-Natal and Wayne Engelbrecht from Bergsig AET Centre in the Northern Cape.
Best Educator
1st Place: Raymond Belani Zibi from Ponelopele ABET Centre in the North West.
2nd Place: Bernadette Bailey from Worcester CLC Centre in the Western Cape.
3rd Place: Thembeni Seale from Ntsie PALC in Mpumalanga.
Best Group
1st Place: Coen Strydom, Group Welding Class, from DWT Nthathe ABET Centre in Winterveldt, Gauteng.
2nd Place: The Tourism Group from Porterville CLC in the Western Cape.
3rd Place: Austerville Progressive Men's Group from KwaZulu-Natal.
Best Centre/Project
1st Place: Elsies River ABET Centre in the Western Cape.
2nd Place: Chubekani ABET Centre from Mpumalanga.
3rd Place: Tswelopele PLC Satellite, Gaerobe State Adult Centre in Soshanguve, Gauteng.