Nthambeleni Gabara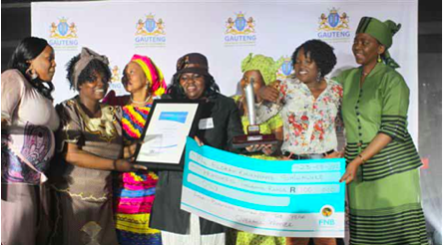 Photo caption: The Gauteng Agri-Business Women of the year winner Flora Shilaluke (centre) with other winners.
Flora Shilaluke has sacrificed sleep and social life and endured physical pain to succeed as a farmer.
Any day of the week, this 46-year- old mother of four can be seen toiling away at her 21-hectare farm, Leeufontein, near Bronkhorstspruit, east of Pretoria.
The fruits of her labour were realised when she came out tops in the Gauteng Agri-Business Woman of the Year competition.
On 23 August, Shilaluke exchanged her overalls for a black-and-white suit to accept her award and the R140 000 prize money at a ceremony at the Voortrekker Monument in Pretoria.
A shining star
Although there were also winners in other categories, Shilaluke, who farms with poultry, goats, cattle and vegetables, was the star of the evening.
Even in her moment of glory, she emphasized that farming was a difficult business, which often took its toll on the body. "Some- times I feel very tired and worn out with aching back, arms and legs, but I don't give up, because farming is in my blood. This is not an industry for models because their beauty will fade away with an increasingly tanned skin after spending long hours in the sun."
But Shilaluke is happy to be a farmer. "With agriculture, there is no hunger and I have been working very hard since I started farming in 2008."
Her three poultry houses have 9 000 layers, which currently supply eggs to supermarkets throughout Bronkhorstspruit. But Shilaluke also gives back to the community by donating eggs and vegetables to the Botle Primary School every day.
She ascribes her success partly to her supportive husband, Petrus Machabaphala, who is also passionate about farming.
"My husband spends most of his time in the mealie field planting maize and this is actually what encouraged me to start a backyard garden; now the rest is history."
Shilaluke is delighted that their first-born daughter, Molatelo (19), has also developed a passion for agriculture. "This is good because young people don't take farming seriously; they consider it as an industry for elderly people."
Asked about her future plans, the farmer who has already created permanent jobs for two women and six local men said, "I want to expand the production of layers from 9 000 to 20 000 layers, as this will help to create even more jobs."
Gauteng Agriculture and Rural Development MEC Nandi Mayathula-Khoza said the link between women and agriculture is crucial, as agriculture remains the backbone of our economy and women are the bedrock upon which families are built.
"We are resolute in our commitment towards the total emancipation of women, and these awards are testament of that resolve," she concluded.
"With agriculture there is no hunger…" – Flora Shilaluke
Other winning categories
Disabled Agri-Business Woman of the Year: Ellen Makhaya from Zuurbekom
Best Homestead Food Garden: Matodzi Mukwevho from the Itsoseng informal settlement
Informal Markets Crops: Bantubonke Agricultural Co-operative from Sebokeng
Formal Markets: Rethabiseng Agricultural Co-operative from the rural community of Rethabiseng near Bronkhorstspruit
Best Agri-Business of the Year: Processing:  Gauchix