Samona  Murugan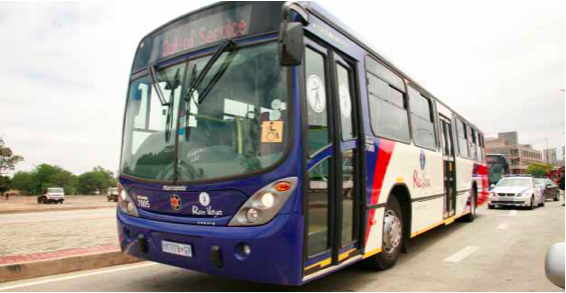 Photo caption: The new transport master plan aims to meet commuter needs
Gauteng is planning to improve and integrate its public transport system to make it a transport mode of choice for most of its residents.
The Gauteng Department of Roads and Transport says it wants to build on the success of the Gautrain and other transport arrangements made for the 2010 FIFA World Cup TM to improve the daily experience of commuters.
The plan seeks to make the lack of safety, unreliability and inflexibility of provincial public transport a thing of the past and reduce traffic congestion.
To address commuter needs and challenges, the Gauteng Department of Roads and Trans- port has launched the five-year Gauteng Trans- port Interim Implementation plan (GTiP5). We can either let the next government decide how to deal with an ailing transport system or we could address the future now," Gauteng MEC of Roads and Transport Ismail Vadi said.
This five-year plan focuses on existing infrastructure and projects that can deliver short-term results. The plan includes all public transport role players – such as municipal transport departments, commuter and taxi associations, unions and other provincial departments. This team is headed by Gautrain CEO Jack van der Merwe and supported by his new Head of Department, Mavela Dlamini. One of the key guiding principles of the plan is the focus on public transport and its many elements. To achieve this province-wide focus the proposed five-year plan has been divided into various key focus areas that include the following:
A transport authority for Gauteng:
One of the major challenges the province faces is the different bodies responsible for managing transport planning and implementation. The team aims to create a single body that would oversee and manage these critical services.
Integration:
This is vital as rail is still considered the backbone of Gauteng's public transport system. The Passenger Rail Agency (Prasa) has an existing R4 billion modernisation programme underway that will revitalise its aging train fleet, improve its railway tracks, signalling and electrical infrastructure, improve access to stations and upgrade station facilities and amenities.
Mini-bus taxi reform:
The transformation of the mini-bus taxi industry has been slow and has stalled the role the mini-bus taxi industry could play in an integrated transport system. The team is working on a negotiated way forward to avoid destructive competition.
Alternative public transport vehicle propulsion:
Gauteng's green refleeting strategy focuses on shifting the energy source for transportation from current non-renewable oil resources to sustainable or clean fuels. The aim is to reduce transport's urban air pollution by 35% by the year 2020 and 50% by 2040.
Travel demand management:
Congestion on the roads is not only a major problem for road users, but also a serious hurdle to economic growth. With Gauteng's population expected to double by 2037, the need to address travel demand management is high. The plan aims to create new standards for public transportation and municipal public transport corridors.
Accessibility to major freight nodes:
Gauteng is a major hub for goods and freight of all descriptions.
Despite Transnet's plans to extend its rail net- work as a viable alternative to road transport, container traffic is growing at almost 5% a year and continues to place strain on road networks. Plans to divert heavy traffic around core urban areas to major freight intermodal facilities are underway. This would also ensure easy access for workers commuting from outlying areas.
International and city airports:
Aside from having to plan routes to accommodate increased travel to and from Africa's busiest airport, OR Tambo International, the plan raises the possibility of building a second major airport. The number of passengers travelling through OR Tambo is expected to reach 65 million per year over the next 25 years. Lanseria Airport could then possibly serve niche markets to alleviate the pressure on the main airport.
Pedestrian paths and cycle ways:
De- spite cities such as Johannesburg and Tshwane introducing pedestrian-friendly routes, their efforts are uncoordinated. The plan looks set to promote the greening of transport and reducing traffic congestion. This would be done by promoting cycling and short-distance walking and using those routes as feeder systems to public transport. The key actions and projects proposed include the development of 50 km of pedestrian paths, plus 50 km of cycle ways and 200 cycle racks at key public transport interchanges across the province.
Continued province-wide mobility:  
This initiative looks specifically at the road network that feeds traffic into and out of Gauteng. The five-year strategy will focus on developing a link between Johannesburg and Rustenburg via Lanseria Airport and the N4 Platinum Corridor, providing a link between Sandton and the N4 Platinum Corridor and linking the N3 to the N4 Maputo Corridor through Ekurhuleni.
Management of transport infrastructure:
The state of the roads across the province is one of the major priorities. The plan highlights creating more roads engineering capacity internally, conducting annual pavement, bridge and storm water assessments, and producing an annual report on projects and finances.
These proposed initiatives aim to alleviate bottlenecks, while laying the foundations for the 25-year strategy.
For more information call the Gauteng Department of Roads and Transport: 011 355 7000