Samona Murugan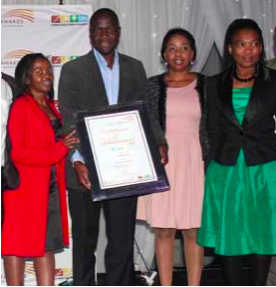 Photo caption: City of Johannesburg received the Best Province implementing EPWP in the Social Sector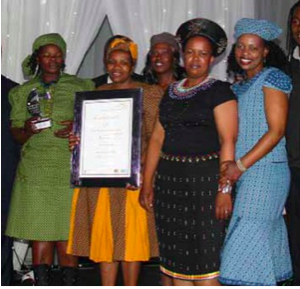 Photo caption: Pheka Ka Kopanele from Free State was awarded the Best Innovative Project Award in the EPWP Non State Sector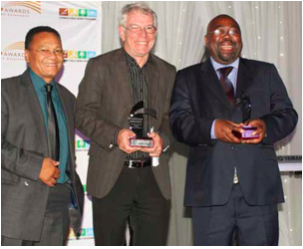 Photo caption: Mr Stanley Henderson (EPWP Deputy DG) presented the Honourable Minister Thulas Nxesi (right) and Honourable Deputy Minister Jeremy Cronin.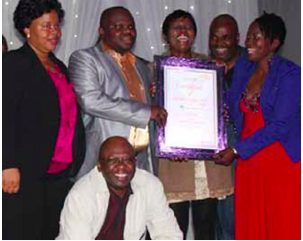 Photo caption: Limpopo received the Best Cooperative Project award in the EPWP Environment and Culture Sector.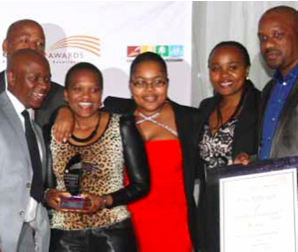 Photo caption: Msinga Community Works Programme of KwaZulu-Natal was awarded the Best Programme in Community Works Programme under the ~1
More than two million work opportunities were created throughout the country from 1 April 2009 to 31 March 2012. This is thanks to the Department of Public Works Expanded Public Works Programme (EPWP) and those who implement the EPWP projects.
The programme is a government-wide initiative aimed at drawing poor unemployed people into the world of work.
To pay tribute to municipalities, provinces and non-profit organisations that have excelled in implementing the EPWP, the department presented the annual Kamoso Awards. Winners in each of the EPWP sectors, namely Infrastructure; Social; Non-State; and Environment and Culture received certificates and floating trophies for their commitment to eradicating poverty within their respective communities.
The awards seek to encourage government and its partners to increase their efforts in implementing the EPWP. They also communicate and showcase the progress, impact and successes of the EPWP nationally, provide a platform to enhance visibility of the EPWP and reinforce its objectives to the broader public.
Projects that scooped awards in the various categories include:
Infrastructure sector
Best Construction: Roads and Storm Water Phase 3, Umjindi Local Municipality, Mpumalanga
This programme in the Umjindi Local Municipality is part of the roads and storm water project of the Integrated Development Plan (IDP). It started on 13 September 2010 and was completed on 19 August 2011, creating 26 work opportunities and empowering beneficiaries with training and skills.
Best Maintenance Project: Siyatentela Programme, Mpumalanga
Tackling the huge challenges of poverty and unemployment in the area, Siyatentela carried out routine maintenance of the provincial network. The project started on 1 April 2011 and ended on 31 March 2012.
Beneficiaries received protective clothing, work tools and a monthly stipend from the department and participated by maintaining road drainage systems such as side-drains, filling potholes, erecting road signs and construction of gabions. The programme has employed 5 370 beneficiaries and maintained 2 685 km of road networks in the province.
Social sector
Best Innovative Project: City of Johannesburg Community Safety Tourism Ambassadors, Gauteng
The Johannesburg Metro Police Department (JMPD) coordinates the city's prevention strategy which includes effective street lighting in high-risk areas and private security partnerships and partnerships with business in high crime areas. The project creates jobs while reducing crime through tourist ambassadors. The ambassadors receive a monthly income that allows them to provide for their families. The project has created 242 work opportunities and 30 beneficiaries have been employed permanently by the JMPD and 17 by Emergency Services (EMS). Five beneficiaries who have successfully completed their training have been deployed at 10 tourist attraction sites around Johannesburg.
Environment and culture sector
Best Innovative Project: City of Johannesburg Sebenzela Imifula Project, Gauteng
Johannesburg City Parks (JCP) is the custodian of more than 22 278 hectares of open spaces and green areas aimed at providing citizens with a greener environment. The Clean-up Joburg Campaign, which maintained trails and wetlands, started on 1 February and was completed on 30 June this year. A total of 92 work opportunities were created of which 62 per cent were women and 75 per cent youth. This helped to reduce crime, raised awareness and educated the community about caring for the environment and promoted responsibility and a sense of ownership of facilities, rivers and wetlands.
Best Cooperative Project: Rahlagane Table Grapes, Limpopo
Supported by the Limpopo Department of Agriculture and the Small Enterprise Development Agency, the project started on 1 November 2011 and is scheduled to be completed by 30 November this year. Beneficiaries were taught to improve administration, financial management and technical production. The project has to date created 40 work opportunities for EPWP beneficiaries including women, youth and people living with disabilities.
Best Provincial Project: Tubatse Municipality Leolo Landcare Project, Limpopo
The Leolo Catchment Project ran from April 2009 to April 2010. Covering the entire Tubatse Municipality and a portion of the neighbouring Fetakgomo Local Municipality, its core function is to construct gabions. This has brought much relief to the people of Greater Sekhukhune District, which was declared a disaster area characterised by severe land degradation and high unemployment. The project addressed soil conservation, the control of alien plants, protection and maintenance of wetlands and improvement of live- stock. It employed 258 beneficiaries, including 110 women and 87 youth.
Best National Project: Goegap Provincial Nature Reserve, Northern Cape
The project started in April 2012 and is scheduled to be completed soon. It is the initiative of Zamisanani Joint Venture, a company that implemented EPWP projects under the Department of Environmental Affairs' Social Responsibility Programme.
The joint venture is 100 per cent black owned and has extensive experience in implementing EPWP projects. In the fi t month, it employed 236 local people with the number increasing to 400. They are mainly from Bergsig, Fonteintjie and Caroulsberg in the Springbok vicinity near the Goegap Reserve.
NON-STATE SECTOR
Best Innovative Project: Pheko Ka Kopanelo, Free State
Pheko ka Kopanelo, which started in June 2011, cares for terminally ill patients and those suffering from HIV and AIDS. The project has created 300 work opportunities including 34 men, 52 women, 33 people living with disabilities and 181 youth. The organisation also sponsored 13 students to study at the University of the Free State. About 540 volunteers support the project by giving their time and expertise to HIV and AIDS patients.
Best Project: Kgapamadi Community Organisation, Mpumalanga
This non-profit organisation was established to uplift and develop the people of Ezakheni on the outskirts of KwaMhlanga Township in the Thembisile Hani Local Municipality in Mpumalanga. The project started in 2006 and is still in progress. It is involved in arts and crafts training; heritage, community construction and development; traditional dancing and music development; community food and vegetable gardens and community sports development. It also pro vides a community information centre and a health centre. To date, 300 beneficiaries have been trained.
Best Project: Msinga Community Work Programme, KwaZulu-Natal
This initiative, which started in April 2011, identified the 25 most vulnerable households per ward in Msinga. Each household received fenced gardens, a rainwater harvesting tank, an irrigation system and a storage facility. The Community Work Programme (CWP) funded by the Department of Cooperative Governance and Traditional Affairs, provides funding to train participants in the construction industry. They receive accredited certification for basic house building, which is recognised by contractors. So far, 25 EPWP beneficiaries have been trained. Apart from repairing the roads around Msinga, they built toilets and bathrooms for local schools that were in dire need of such facilities. More than 100 households have benefited from the project.