Albert Pule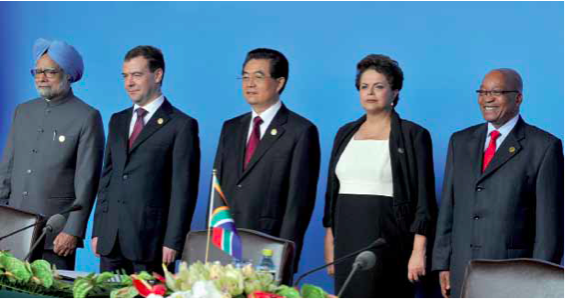 Photo caption: Members of BRICS the Prime Minister of India Mr Singh, President of Russia Mr Medvedev, President of China Jiantao, Brazilian President Rouseff and President Jacob Zuma.
South Africa has made positive strides since joining BRICS, says Minister of International Relations and Cooperation Maite Nkoana-Mashabane.
"When South Africa joined BRICS in 2010, it was once again an affirmation of what this country has achieved in creating a better Africa in a better world. South Africa's BRICS membership is a strong brick for building Africa's growth and its regeneration."
Already, the benefits of South Africa's membership are showing signs of Africa's rise as the next growth pole, Minister Nkoana-Mashabane told the New Age business breakfast in Sandton recently.
BRICS is the acronym for a group of emerging economies consisting of Brazil, Russia, India, China and South Africa. The BRICS member countries are distinguished by their large, fast-growing economies, and with the exception of Russia, they are developing or newly industrialised countries. Set to host the fifth BRICS Summit in early 2013, South Africa is considered a valuable member of the group.
Powerful
Forming partnerships with other countries in the south remains important, but the relationship with BRICS countries is expected to play a more significant role moving forward. "Our BRICS partners have an important role to play in this regard. We have to take them on board, work with them in order to realise the measurable benefits of this partnership," she added.
In recent years the BRICS countries have emerged as a powerful formation with 43 per cent of the global population. Their combined nominal gross domestic product (GDP) is estimated at US$13,7 trillion (R113.47 trillion) and between 20 per cent and 25 per cent of global GDP, as well as combined foreign reserves estimated at US$4 trillion (R33 trillion).
BRICS countries accounted for approximately 11 per cent of global annual foreign direct investment (FDI) flows in 2012 (US$465 billion) (R383.443 billion) and 17 per cent of world trade.
South Africa's membership of the body has expanded BRICS' geographic and intercontinental reach, including its global representivity and inclusivity. South Africa itself has a population of 50 million and an economy worth approximately US$527 billion (R434.342 billion).
The country's per capita income level at purchasing power parity compares favourably with BRICS partners estimated at US$11 000 (R90 707) (after the Russian Federation at US$16 700 (R137 726) and Brazil at US$11 845 (R97 686).
"The comparative advantage within BRICS pertains to our considerable non-energy in-situ mineral wealth. In a recent report com- missioned by the US-based Citigroup bank, South Africa was ranked as the world's richest country in terms of its mineral reserves, worth an estimated $2,5 trillion (R20.7 trillion).," the Minister explained.
South Africa is the world's largest producer of platinum, chrome, vanadium and manganese, the third-largest gold miner and offers highly sophisticated mining-related professional services, contributing significantly to the BRICS resource pool.
Common vision
"South Africa and BRICS countries share a common vision. Like South Africa, our fellow BRICS nations are striving to enhance inclusive economic growth that will lead to an increase in the creation of decent and sustainable jobs, advance the fight against poverty and accelerate the economic transformation of our countries," Minister Nkoana-Mashabane told the briefing.
"We also dream and work to realise a more equitable global political and economic system. This is the right platform for such growth prospects."
South Africa's export structure to BRICS member countries shows significant diversification and the negative trade balance has also narrowed over the last four years; from R57 billion in 2008 to R22, 8 billion in 2011.
"Our export trade with the BRIC partners has grown from 6,2 per cent in 2005, to 16,8 per cent in 2011, whereas its imports from the BRIC countries represented 13,6 per cent of total imports in 2005, and 20 per cent in 2011.
"The Minister of Trade and Industry, Dr Rob Davies, has emphasised that last year alone, trade between South Africa and BRICS countries grew by 29 per cent, which is considerable."
The Minister said the booming trade relations between South Africa and its BRICS partners should also benefit other African countries. She gave an example of a Brazilian company partnering a South African company to assist in building a copper mine in Zambia in an agreement worth more than US$1,2 billion (R9 billion).