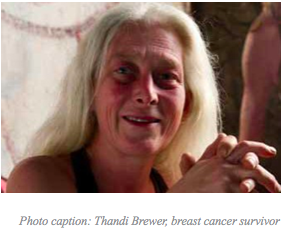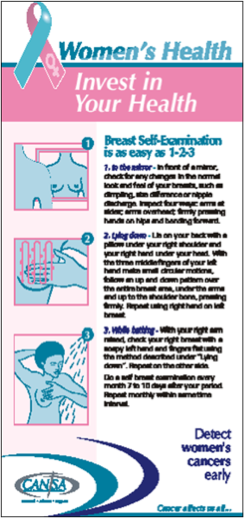 Yes, I survived breast cancer. It can be beaten." These are the confident words of award-winning scriptwriter, director and chairperson of the Writers' Guild of South Africa, Thandi Brewer.
Brewer was diagnosed with breast cancer three years ago. "My body finally sent me a message. I think it had been waiting for me to have a moment when I could actually pay attention to it, because I was so busy," says Thandi. One night she woke up with agonising pain in her right breast and went to the doctor. "I found out that I had breast cancer and had to have my right breast removed. There was no time to brood about it, I had to just remove it and move on."
Refusing to let her condition define her, Brewer decided not to undergo cosmetic surgery. "I am perfectly fine living with one breast," she defiantly says. Her approach towards cancer is the same approach she applies to her life. "Live each and every day to the fullest, and enjoy every moment of your life. So what if you get cancer in your breast. Just remove it and move on with your life."
No stranger to the effects of cancer, Brewer says her mother, Fiona Fraser, was also a breast cancer survivor, who had her first *masectomy in her thirties and her second in her sixties. She lived to the age of 76 not allowing cancer to dampen her enthusiasm for life.
"My mother survived cancer for close to 40 years and she was one of the most energetic women I knew. With her diagnosis, I knew that I was also at high risk, so I wasn't freaked out when I was told, nor was I scared. I remember thinking, right, the battle lines are drawn, it's time to fight this. I knew I could survive it."
Undergoing chemotherapy was a challenge, but it did not break her spirit. "I wasn't scared of it, which I think made all the difference. I went into treatment thinking the chemo is going to kill these nasty cancer buggers," she laughs. The chemotherapy did not work as well as doctors had hoped, and Brewer had to undergo surgery to remove her breast.
"Removing my breast was not a hard decision to make. Given a choice between a breast and death I chose to live." And she lives life to the full every day, inspiring everyone around her. Having cancer, she says, has given her an awareness of the value and vulnerability of life and friends, love and laughter.
Many women undergoing the same ordeal have reached out to Brewer. "I let them know what a positive experience I had and reassure them that *chemotherapy is not something to be scared of, nor is a mastectomy. We, as women, are more than our breasts."
October is Breast Cancer Awareness Month. Brewer urges all women to go for a *mammogram, and regular check-ups. "The one thing I want women to know about breast cancer is that it is completely beatable and not something to be scared of. The earlier your cancer is detected the quicker the cure," she says.
*Masectomy is the surgery to remove the breast along with the cancer.
*Chemotherapy refers to treatment with drugs that kill cancer cells or make them less active
*Mammogram is the process of using X-rays to examine the breasts to detect the presence of cancerous cells
For more information about breast cancer contact the Cancer Association of South Africa (CANSA) toll free call centre on: 0800 22 66 22.