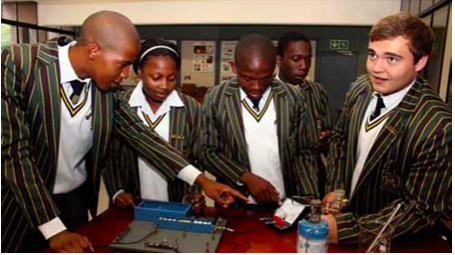 Photo caption: Do not miss a day of school in the weeks leading up to the start of examinations.
As the final examination for the National Senior Certificate approaches the Department of Basic Education, is embarking on a campaign to help matric learners prepare for exams.
The department has launched the Class of 2012 Campaign, which will give matriculants tips on how to study and prepare for their final examination. The campaign encourages matrics for the next few months to focus on their school work and rallies parents and com- munity members to show their support and assist learners.
To prepare, you must draw up a study timetable and use your time well. Work through each subject and make notes and mind maps using your textbooks and study guides. Once you have covered all the topics, go over exam papers from the past two years. These should give you an idea of the kind of questions to expect from your final exams.
Ten things to do to succeed in the Grade 12 examinations
The draft matric timetable is out. Study it and start to plan now. There are sometimes two exams in one day, so you will have to be sharp and alert. Check the final timetable in case there are any changes.
Your final exams will start soon, make sure you use your time wisely. Start today and work every day, including your weekends and set targets for each subject.
Do not miss one day of school between now and your exams. Keep healthy and alert and listen to your teachers for tips and advice.
Reading is a skill that can change your life. Read at least a 1 000 words per day, but read it accurately.
Writing is a power, but requires practice. We are all judged by our writing every day. You can inspire, impress, persuade and express various emotions in your writing. Write carefully, accurately and effectively every day.
Textbooks are very important for your exams. Make sure you have the correct textbooks for each of your subjects and that you work systematically through each textbook. Don't wait for your teacher to explain it all. Take the initiative and look at what you have to learn for your exams and plan accordingly.
Keep your weight under control. Your weight indicates how healthy food you are. Remember to eat healthy and exercise. Remember a healthy body makes for a healthy mind.
Your work requires concentration and focus. Make sure that you focus on your work every day. Turn off all iPods, CD players, TVs and cellphones so you are not distracted. Build your brain cells and be the envy of your friends.
Good vibes are great for success. Surround yourself with positive, happy people who want you to succeed. Your family and friends will be important in supporting you in the next few weeks. Be grateful for their support.
Matric success requires planning and hard work. Start planning and working today. Do your homework, read, write and calculate every day. Stick to your study plan.
For more information call the Department of Basic Education contact number: 012 357 3000/ Hotline: 0800202933