Ntokozo Maphisa – KwaZulu-Natal Department of Treasury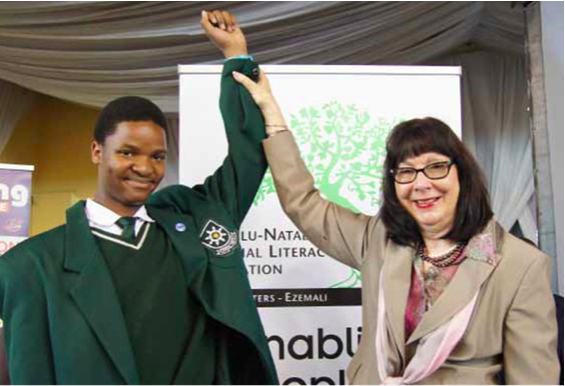 Photo caption: Overall winner of the 2012 Grade 11 Provincial Speech Contest from Ferrum High School aMajuba District, Mondli Ngwenya who presented a topic ('Financially literate consumer; a blessing or a curse?'), and KZN MEC for Finance, Ms Ina Cronjé at uMfolozi FET College (Esikhawini) in Mpangeni, where young pupils from all corners of KwaZulu-Natal gathered under one roof, sharing their knowledge and concerns on financial education.
Learners from KwaZulu Natal shook off their stage fright and stood before an appreciative audience in a contest to see who is the best orator in the province.
The 12 Grade 11 learners from all twelve twelve districts competed for the top prize during the contest hosted by the KwaZulu-Natal Financial Literacy Association.
Mondli Ngwenya of Ferrum High School in Amajuba District scooped the top prize for being the most engaging speaker. For his efforts, he received a bursary to study financial management up to post-graduate level at a University of his choice.
The KwaZulu-Natal Departments of Education joined forces with Provincial Treasury and the Financial Practitioners Development Trust to host the fi of the 2012 Grade 11 Provincial Speech Contest at uMfolozi FET College, eSikhawini.
Now in its 16th year, the contest sees learners do battle from school level through toward, circuit and district levels. Only the district winners fight it out at provincial level, with the winner walking away with a bursary, a laptop, a trophy and a certificate. The contest seeks to inculcate a culture of wise spending among the learners.
CEO of the Financial Services Board Dube Tshidi said the contest sends a message to consumers to be financially literate. "What the government of KwaZulu-Natal has done makes it number one in terms of ensuring that people know how to manage their money. What the learners are participating in is certainly going to make them better financial managers," he said.
Addressing the audience, the Mayor of Uthungulu District Municipality, Cllr Thembeka Mchunu, said the speech contest is a critical building block for learners to being better financial stewards. "I encourage learners to not shy away from maths and science because these subjects are key in unlocking the financial challenges that might face our society in future," said Mchunu.
The Champion of the KwaZulu-Natal Financial Literacy Association and MEC for Finance, Ina Cronjé, said it is always better to teach people financial literacy from a tender age.
"This is one of the most important campaigns in this province that instills a culture of good financial management to the learners. We also want to ensure that the financial literacy messages are incorporated into the curriculum so that this can further shape the minds of our learners to be better financial planners and managers," she said.
Prizes for all 12 finalists include laptops, certificates, TVs and DVDs. The sponsors of the contest include PC Training and Business College, Financial Planning Institute of Southern Africa, Inseta, Department of Education, First National Bank, Financial Services Board and Postbank.