Road to Paralympics 2016
Nthambeleni Gabara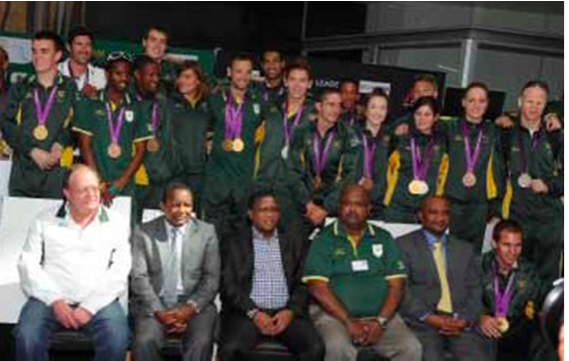 Photo caption: Paralympians were given a heroes' welcome on their return from the 2012 Paralympics Games held in London
Following their sterling performance at the Paralympic Games in Lon- don, Team South Africa is laying the ground for the 2016 games.
The country finished 17th, securing 29 medals, including eight gold, 12 silver, and nine bronze. In 2009 in Beijing, South Africa finished sixth with 30 medals, of which 21 were gold.
The President of the South African Sports Confederation and Olympic Committee (SASCOC), Gideon Sam said this clearly indicates that the world is moving in terms of improving performance at global sporting events.
"The world is moving, the world is not waiting for us, and we have to catch up. I want to assure you, with brave people like these, we will achieve even more.," said Sam. "As we prepare for Rio de Janeiro in 2016, we appeal for more support for these heroes and heroines so that they can perform even better."
Sam commended the athletes for putting on an impressive performance.
"They have done their best, so we will take and prepare them well for 2016. Our preparations for the next Paralympic Games will start as soon as possible, because it is clear that the world is not waiting for us."
According to Sam, SASCOC is already preparing for the 2016 games in Brazil.
"We need to start our planning now by visiting cities across the country and seeking inputs from athletes and all our stakeholders before we form the final plan for 2016." Before the Olympic Games, SASCOC promised medal winners R400 000 for a gold medal, while silver and bronze medals were worth R200 000 and R80 000 respectively. Paralympic medal-winners, purely because of the vast number of classifications and events compared to the Olympics, were promised R100 000 for gold, R75 000 silver and R40 000 for bronze.
However, Sports Minister Fikile Mbalula intervened, saying Paralympian medal winners deserved the same incentives as those received by the Olympians.
At the handing over of ceremonial cheques, sensational swimmer, Natalie du Toit became the top earner after she received a whopping R1,4 million for winning three gold and one silver medal.
Under the old scheme, Du Toit would have pocketed R375 000.
Sprinter Oscar Pistorius, who took home R700 000, told fans gathered at the airport: "I never expected this huge turn out and I've never seen this overwhelming support in my life."
Paralympic sensational swimmer Charl Bouwer took home R800 000 for winning three medals, while Du Toit's coach, Suzanne Ferreira, received R530 000.
Speaking at the event to welcome the athletes at OR Tambo International Airport, Mbalula, who described Du Toit as a golden girl of South Africa said: "We are very proud of this team because if you don't know perseverance, tenacity, exuberance and determination you know nothing and this is what this team has displayed. So we can't ask for more, our athletes stood the ground and brought medals home."
"We call them Olympians, we call them Paralympians, these are real people, and these are the people who have made our country very proud among nations." Minister Mbalula commended the paralympians for overcoming their disabilities.
"If you live with disability, that does not mean it's the end of the road," He also paid tribute to Du Toit who is now retiring from all forms of competitive swimming.
The games ended on Sunday, 9 September and the next Paralympics will be hosted by Rio de Janeiro, Brazil in 2016.
SA to boost international sports events
Thomas Thale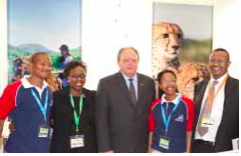 Photo caption: From Left:Thabang Motlatla, CATHSSETA ,Adv Brenda Madumise,Chairperson CATHSSETA, Hon. Gert Oosthuizen Deputy Minister Sports and Recreation South Africa, Mike Tsotetsi, CEO , CATHSSETA
South Africa is taking steps to attract international sports events to the country.
Following a three-day conference in Durban in September, delegates adopted a sports strategy for the country to coordinate efforts to boost the country as a key destination for sports tourism.
The Sports and Events Tourism Conference brought together government representatives, sports administrators, representatives of the hospitality industry and international guests from countries such as London, Qatar, India and Scotland.
In his key-note address, Deputy Minister of Sport and Recreation South Africa (SRSA), Gert Oosthuizen said the department was ready to play a key role in positioning South Africa as a destination of choice for sports tourism.
The minister welcomed the adoption of the Draft National Sports Tourism Strategy by the conference. "It will now be finalised after this conference considering the papers presented and inputs made. We envisage to submit this strategy, before the end of the year, to Cabinet for official approval."
Deputy Minister Oosthuizen also said the department would collaborate with the Department of Tourism as well as the sports and the tourism industries to maximise mutual benefits of positioning South Africa as a major destination for major sports events.
He added that sports tourism would stimulate the economy and benefit many people. "Beneficiaries include hotels, airlines, rental transport, travel agencies, bureaux de change and restaurants with also many other role-players benefiting indirectly from sports tourism including small businesses such as the crafters you see on the Durban beachfront.  It is through this that we hope to build our economy in a sector which relies on basic skills in the belief that we will meet the international standard of creating one job for every 12 tourists who visit our country."
Sports events that attract a lot of tourists include rugby, cricket, golf, soccer and the Olympics. But the conference agreed that the approach to sport tourism should be continuous and even smaller sport codes such as table tennis and canoeing have the ability to attracts lots of visitors to the country. Gideon Sam, President of the South African
Sports Confederation and Olympic Commit- tee said his organisation is prepared to drive the strategy and chair the steering committee which includes sports federations.
Sam said sporting federations need buy- in from government to bid for international events. "Government must have appetite for us to bid. We must be assured of support." Mvuzo Mbembe, CEO of the Local Organising Committee for the 2013 Africa Cup of Nations, told the conference that preparations for the tournament are on track.  "We are ready to host Africa. But if 32 000 fans arrive tomorrow, I am not sure if we'll have the infrastructure to move them around and house them. We don't see flags flying to promote the tournament." Mbembe called on the tourism industry and municipalities to take a more active role in promoting the tournament. He added that Africa is a big market with huge buying power. "On the last day of the 1999 All Africa Games, they closed the Eastgate mall and Sandton City because the malls were sold out. Africans are big spenders. They bring dollars. We must be ready to welcome them."
For more information, call the Department of Sports and Recreation South Africa on: 012 304 5000