Samona Murugan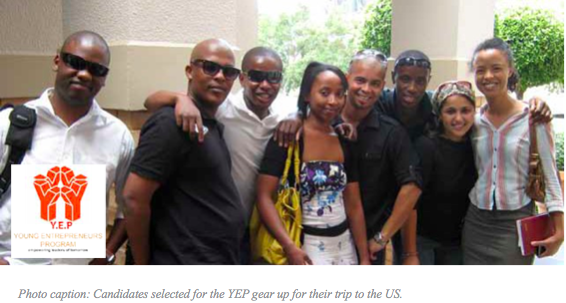 Photo caption: Candidates selected for the YEP gear up for their trip to the US.
Are you thinking of starting your own business? Do you have a business plan? If yes, you could be one of 14 young business minds jetting off to the United States of America (USA) to receive first-hand business training to help propel your business to new heights.
This exciting and innovative opportunity is part of the new Youth Entrepreneurs Programme (YEP) presented by the National Youth Development Agency (NYDA) and the International Business Academy (IBA) Global to promote the development of the entrepreneurial spirit among young Africans.
Established in 2009, by the Sierra Nevada College in the USA, it identifies and assists young entrepreneurs from all walks of life and equips them to succeed in their own business ventures.
The programme aims to expand young entrepreneurs' knowledge and expertise in entrepreneurial thinking, basic business management skills, methods of attracting investors and ways to design programmes to teach these skills to others.
Leadership and entrepreneurship certificate
Selected young entrepreneurs start their training with classes in South Africa and then travel to the USA for six weeks where they will be paired up with local entrepreneurs. The also receive classroom training at an accredited American college.
They will benefit from the business skills and knowledge of their USA-based mentors and learn business theory through workshops, lectures and online training. After the six-week period, candidates will receive a Leadership and Entrepreneurship Certificate. On their return to South Africa, they will be more confident and ready to turn their training into reality by implementing their business management skills.
Who can apply?
The NYDA calls on all young entrepreneurs to apply, provided they
•    are between 18 and 35 years old on 20 October 2012
•    are South African citizens
•    have a valid passport
•    are willing to travel and to embrace different cultures
•    can speak English
•    are team players
•    are dedicated to learning and prepared to work hard
•    demonstrate a passion for business and innovative ideas
•    are willing to assist and add value to their host company.
Prizes
Candidates will travel to the USA in February 2013 for six weeks; fl tickets, meals and accommodation will be covered.
Candidates will work closely with professional USA mentors, after which the mentors will come to South Africa to help them set up their own businesses.
The closing date for applications is 20 OCTOBER this year and winners will be announced on 20 November.
For more information contact the NYDA at 08600 96884/0800 5252 or e-mail info@iba-global.com. Application forms are available from www.nyda.gov.za or from your nearest NYDA branch