Irene Naidoo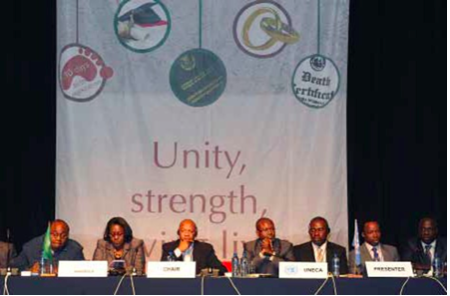 Photo caption: The importance of civil registration documents was discussed at the recent Civil Registration and Vital Statistics Conference.
African countries have pledged to work with Universities and Non Government Organisations in step- ping up measures to record their populations. This follows the Second Civil Registration and Vital Statistics Conference held in Durban recently.
Speaking at the conference, President Jacob Zuma highlighted the need for countries to get their civil registration systems in order.
The conference discussed the importance of Africans having civil registration documents, such as birth certificates, identity documents, death certificates and so on.
Ministers and experts from the continent also reviewed the progress made in civil registration and planned the way forward.
Zuma expressed concern over the scandal of invisibility – a situation where people are born and die without ever leaving a trace in any legal record of their existence.
"It has meant that the most vulnerable people in Africa remain unseen and uncounted. They practically do not exist," he pointed out.
It was important for all African citizens to be registered – a feat that could only be achieved through efficient civil and registration systems. Once everyone in Africa has been registered and accounted for, the continent can plan better for its people and its development, the President added.
Home Affairs Minister and African Union Commission chair Nkosazana Dlamini Zuma, who chaired the conference, said public records enabled governments to keep track of births, marriages and deaths.
Having an efficient civil registration system would also help countries when it came to providing services for their people.
The information would help decide how many schools or hospitals need to be built, how many vaccines are needed as new-born babies grow, or help identity a particular deadly disease, since a cause of death would be noted on a death certificate.
Dlamini Zuma said the conference was a resounding success and that a number of decisions were agreed upon.
She said the conference had, as promised, assessed the progress made since the first conference in 2010 and the results were pleasing. "It was very encouraging to find that many countries had implemented many of the decisions taken in 2010 and had started or accelerated work in these areas. But of course, two years is not a long time to implement everything, so we were pleased that no country said we didn't care, we didn't do anything. Every country tried to do something," Dlamini Zuma added.
All countries on the continent, including those that have just emerged from conflict were doing their best to make sure all citizens were registered.
"No country is just sitting and saying they are in shambles. Every country is doing something and there are many things we can also learn," she said.