Rebaone Moeng - North West Department of Human Settlements, Public Safety and Liaison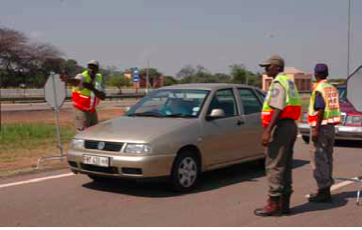 North West MEC for Human Settlements, Public Safety and Liaison Nono Maloyi has vowed to show no mercy to criminals and traffic law offenders.
Addressing newly appointed traffic officers recently she commanded them to serve with diligence, dignity and commitment. She went on to say that the department is entrusting the safety of road users to them.
The MEC made a commitment to give newly-appointed traffic officers enough resources to make their work easier and for them to handle hardened criminals.
"You are going to deal with hard-core criminals and you must know how to deal with them," she said.
The MEC said joint operations between the South African Police Service and traffic authorities would be stepped up across the province. "North West must never be a playground for criminals," she warned.
At present, the province has about 390 traffic officers at operational level and intends to increase this number to about 900 by 2015.
One of the newly-qualified women officers, Nthabiseng Lobelo, pledged to serve with pride and honesty. She said being part of traffic law enforcement in the province gives her the responsibility to contribute to curbing the ever increasing fatalities on the main roads of the province. "I am determined to save lives, prevent accidents and enforce traffic laws," Lobelo said.