Albert Pule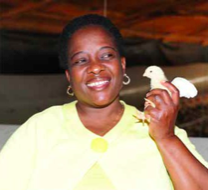 Photo caption: Nthakoana Mojakhomo, proud poultry farmer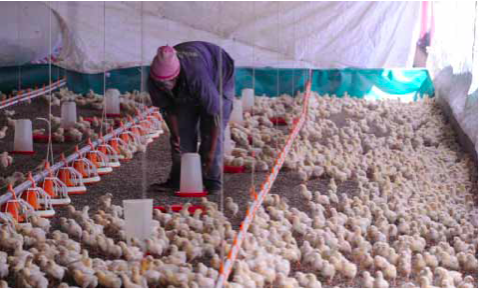 Photo caption: Cathy Moloko hard at work feeding chicks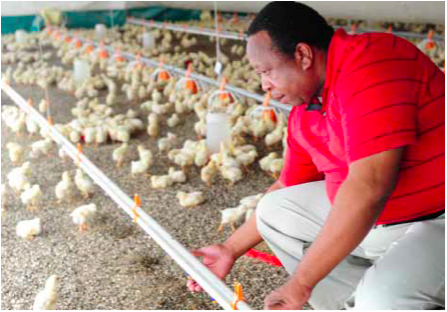 Photo caption: Teboho Mojakhomo lends a helping hand
Nthakoana Mojakhomo and her husband Teboho Mojakhomo both left their plush jobs in the medical field to start a poultry farm. Their love for selling chickens and eggs brought them together over 20 years ago in Soweto and they have never looked back since.
The couple now runs a successful chicken farm situated in Buffeldroom in the mining town of Stilfontein near Klerksdorp. Mojakhomo Broilers as the farm is known, produces 125 000 chickens in a 36-day cycle.
To get to their farm, we navigate through a large flat area resembling African savannah with a flock of sheep grazing in the distance. Dressed up in an undersized red T-shirt and khakhi pants, Teboho looks like an authentic farmer. His wife Nthakoana looking mature with her patches of grey hair, greets us from where she is sitting next to the staff quarters in the fading shade of the house.
Teboho, who is a former paramedic and Nthakoana a former nurse, have no regrets about giving up their medical careers to focus on farming. "I don't miss nursing at all, because now I'm actually doing nursing of a different kind," says Nthakoana as she leans against the back of a chair seeking refuge from the sun. "I'm nursing chicks now."
Selling chickens
Nthakoana's love for selling chickens started at an early age as she learned the ropes from her father, who was a chicken farmer. She started selling from her backyard in Soweto to her colleagues at Johannesburg's Charlotte Maxeke Academic Hospital. Slaughtering, plucking and cleaning the chickens herself, she sold them ready to be cooked. As time went on, the demand exceeded supply and she had to expand.
Her dream of owning a farm prompted her to apply for a job overseas. "I worked in Saudi Arabia, the USA and the United Kingdom," she explains. While she was working at a London hospital where she earned R35 000 per month, Teboho and their children joined her and for five years the family saved for their dream to owning a chicken farm.
In 2009, the Mojakhomos took a giant leap when they applied for a loan at Land Bank. "We got a loan for R3,8 million with a 25-year contract. We are still paying it back, but with the challenges facing our industry, we are struggling to keep up with the payments," she says.
Achieving greatly
The Land Bank loan enabled the Mojakhomos to buy a 22-hectare farm, but the money was not enough to develop the farm. "We got a lot of financial assistance from government and we are grateful for that," Nthakoana says.
The farm was neglected with old infrastructure and a lot of trees that had to be cut. "We knew that there was a chance for failing, but believed that those who fail greatly, achieve greatly," adds Teboho.
Their perseverance paid off and they received help from government. The Department of Rural Development and Land Reform under the Recapitalisation and Development Programme and the Department of Agriculture, Forestry and Fisheries sponsored five 120 m x 80 m sheds, as well as coal and other farming implements and the digging of a borehole on the farm.
Creating jobs
The farm now employs 15 permanent and 20 casual workers. Nthakoana buys one day-old chicks from hatcheries, keeps them for six weeks and sells them to an abattoir. After that, a two-week break follows where maintenance of the sheds takes place. "The staff complement is not enough and we want to increase it, but we can't because of the hardships the business comes across."
The main challenge that threatens the Mojakhomos is the imports from European countries and Brazil. Nthakoana pleads with government to come up with solutions to deal with the challenges facing emerging black farmers.
"Government is aware of our challenges and they know how many chickens each province produces. We need to create more farms that will help in creating more jobs and food security."
They believe to address food security and create more jobs, government should invest in upcoming farmers and ask established farmers like Mojakhomo Broilers to mentor them. With such support more emerging farmers will become successful commercial farmers thus creating job opportunities and helping to grow the economy.
For more information call the Department of Rural Development and Land Reform on: 0800 0070 95