Neliswa Demanai – Department of Rural Development and Land Reform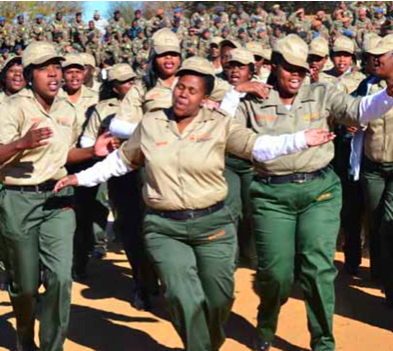 Photo caption: NARYSEC students celebrate at their graduation ceremony held in Kimberly recently
One thousand learners from the 3SAI Military Base in Kimberley have recently graduated from the National Rural Youth Service Corps (NARYSEC) programme.
Participants were not trained as soldiers but were exposed to military discipline so that they could be- come better and more patriotic citizens. In addition, they were trained to become agents of change so that they could help fight poverty, unemployment and inequality.
One of the graduates of the programme, Thuleka Mikelo from the Eastern Cape, expressed her gratitude for being given an opportunity to participate in the programme. "I have learnt so much from the programme. I am so grateful for everything I have learnt, I will use the skills I have learnt to improve my life and maybe empower those around me," she said.
According to Mikelo, the training at the military base has helped her with discipline. "I don't see myself doing the things I used to do before I came here, this training has really changed my life," she said.
She further encouraged other young women from rural areas to participate in programmes such as NARYSEC. "We as women need to start leading. The time has come for us to be leaders."
Following this training stage, the NARYSEC participants will conduct household profiling to determine the household needs of various com- munities. After that, the group will be trained in various skills areas so that they can build houses and roads.
Once their training is complete, they will be deployed to their respective rural communities where they will help build their villages' infrastructure requirements.
NARYSEC was established by the Department of Rural Development and Land Reform in 2010 to alleviate poverty in rural areas. The programme provides character building, soft and hard skills training, which qualify recruits in rural areas to undertake various rural infrastructure development projects.
For more information on NARYSEC contact Department of Rural Development and Land Reform on: 0800 0070 95or go to www.ruraldevelopment.gov.za