Vuyani Sibene - GCIS Cofimvaba Thusong Centre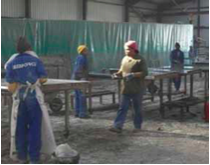 Photo caption: Beneficiaries on site, hard at work in the factory in Queenstown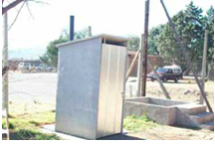 Photo caption: One of the complete erected Ventilated Improved Pit toilet produced at the factory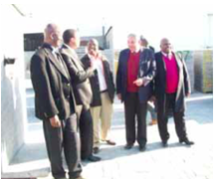 Photo caption: MEC Qoboshiyane with MUNIMEC members during their visit to the project in Queenstown
Hundreds of unemployed graduates, community members, local contractors, job seekers and entrepreneurs are reaping the benefit of a sanitation project initiated at the end of 2010.
Thousands of ventilated improved pit (VIP) toilet units are being erected in households across the Chris Hani District Municipality. Not only does the project focus on constructing toilet units, but construction material is also manufactured locally.
Since January 2012 this R500-million project has seen over 200 unemployed graduates appointed as interns in Engineering, Administration, Social Sciences and Finance, with more graduates set to be hired as the project progresses. All interns receive a monthly Extended Public Works Programme (EPWP)-based stipend.
Four consultants have been hired as quality controllers and each will have to employ at least three local unemployed graduates as interns to ensure skills transfer.
New factory
A new factory has been built in Queendustria, the industrial area of Queenstown and work to manufacture construction material has started. The factory produce the required 60 toilets per day. Community members have been recruited to work at the factory, which has helped the District Municipality save about R20 million. The main contractor for the project is Cemforce, which has appointed locally based subcontractors. The contractor also employs local people, many of whom are unskilled and semi-skilled and helps them to acquire new skills with on-the-job training.
Sanitation backlog
Chris Hani District Municipality Council is striving to meet the national target of proper sanitation for all households by 2014. The council aims to build 13 000 toilet units. Thus far, 9 300 toilet units have been built in the district.
A master plan that was drawn up by the municipality to address sanitation identified the eradication of the bucket system as a key priority by 2014. But the district still has a backlog on sanitation, with 53 per cent of households, which amounts to 104 009, still without access to decent sanitation. Most of the backlog is in the Eastern part of the district, which is constituted by Engcobo and Intsika Yethu Local Municipalities. According to the municipality, this backlog requires a further R650 million to be wiped out.