Written by Nthambaleni Gabara
Chronic poverty and hunger due to a lack of jobs in the deep rural village of Ha-Matsila in Limpopo is now in the past. Job-creation projects in the area are blowing new life in to the community.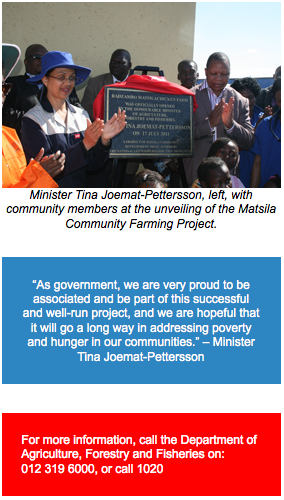 The Matsila Community Farming Project in Limpopo is giving new life to this area where many people have been struggling to make a living in the past.
The project, which was recently unveiled by the Minister of Agriculture, Forestry and Fisheries, Tina Joemat-Pettersson, is already developing agricultural productivity in the area. Minister Joemat-Pettersson said the project would not only provide jobs for the local people, but would also provide food to residents.
"As government, we are very proud to be associated and be part of this successful and well-run project, and we are hopeful that it will go a long way in addressing poverty and hunger in our communities," the Minister said.
More crops
The Community Farming Project, situated in the dusty village of Ha-Matsila, under the Makhado Municipality, include cattle, goat and chicken farms. There is currently a total of 180 goats, a herd of cattle with 50 Nguni cows, two bulls and 4 000 chickens with the capacity to lay up to 3 000 eggs per day.
The village's young traditional leader Livhuwani Matsila said they are planning to introduce more diverse range of crops soon. This will include planting tomatoes and cucumbers on a large scale at their 200-hectares farm in the area.
In addition, they will start a fish farm since there is a river in the settlement. The construction of the required fishing facilities should start soon, he said.
Rural Development Programme
Another boost for job creation in the village comes from the Comprehensive Rural Development Programme which was launched at the village in August last year.
As part of the Rural Development Programme, the community trust together with Resource Africa, is constructing a guest house on top of a hill in the village. Chief Matsila said the thatched guesthouse is for tourism purposes and will be completed by November this year.
"The bricks we are using were made by the villagers themselves, the artisans, engineers and brick layers are all from this village," he said.
So far, the Matsila project has created jobs for 300 local residents in the village with a population of about 2 000 people.
Residents of Ha-Matsila are proving that fighting poverty with successful job-creation projects are possible with the active participation of the local people.