Know Your Minister: Tourism
South Africans will be celebrating Heritage Day on 24 September. Nelson Mandela used the phrase "rainbow nation" to describe South Africa's different cultures, customs, traditions, histories, and languages. This day is a celebration of that diversity.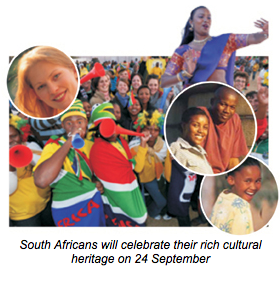 It is a day to celebrate South African culture in the form of creative expression, our history, language, the food we eat, the land in which we live, the sum total of wildlife and scenic parks, national memorials, historic buildings, works of art, literature and music.
It's also a day to reflect on who we are, where we come from and where we are headed as people. Mostly, it is about togetherness and teamwork - attributes that have helped to build the rainbow nation and that will keep the rainbow intact for years to come.
There are many ways to celebrate Heritage Day. Learn to sing our anthem; learn one of our 11 languages and discover the culture of the people who speak it; fly the flag; learn about the role our past has played in shaping what we have become today by reading books about our history or biographies of some of our heroes; live ubuntu be welcoming and show warmth to fellow South Africans and visitors alike; buy South African products and make use of South African services.