Written by Sekgabo Kedijang
National Book Week is celebrated from 6 to 13 September. It is an initiative of the South African Book Development Council (SABDC) in collaboration with the Department of Arts and Culture to make South Africa a reading nation. The celebrations coincide with International Literacy Day on 8 September.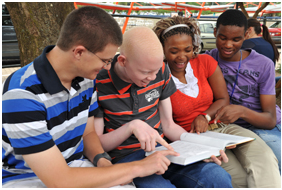 National Book Week aims to encourage people to read more, increase awareness of the importance of reading for the development of the nation and promote the publishing industry.
Recent research by the SABDC shows that 51 per cent of South African households do not have a single book in their homes and that only 14 per cent of South Africans are active readers. Only 5 per cent read to their children.
Everyone can participate in National Book Week. Read to your children; donate books to schools, children's homes or old age homes; join a library; start a book club; exchange books with friends or teach a child to read.
Many libraries will have special programmes during this week. Museum Africa in Johannesburg will host a reading programme with a variety of activities for children, adults, schools and the general public. Entrance is free and everyone is welcome.
For more information, call the Department of Arts and Culture on: 012 441 3000, or call the SABDC on: 021 914 8626/7.  
You can also send an e-mail to: bookweek@sabookcouncil.co.za