Written by Chris Bathembu
Government has announced major changes to the economy to create jobs and speed up infrastructure development.
President Jacob Zuma will head a newly created Infrastructure Commission, while Deputy President Kgalema Motlanthe will chair a new Job Creation Commission to reaffirm governmnt's commitment to these important issues.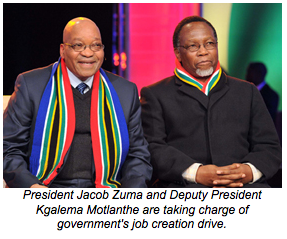 The two structures were announced after Cabinet's recent three-day Lekgotla in Pretoria. Because of the importance of job creation and infrastructure in dealing with poverty, Cabinet agreed that these should be managed through The Presidency.
Improve capacity
"This intervention will systematically improve the capacity of state agencies to deliver infrastructure and help connect the work of all spheres of government," said Minister in The Presidency Collins Chabane.
The Infrastructure Commission will oversee all major national projects, monitor their budgets and make sure that the projects are put into practice. It also aims to improve the delivery of infrastructure. To this end, struggling provinces will receive help from a special programme to tackle key blockages in service delivery.
Recovering from crisis
On job creation, Minister Chabane said more than 900 000 South Africans lost their jobs following damage to the South African economy caused by the global economic crisis that started in 2008.
 "The Cabinet Lekgotla resolved to fast  track interventions that will help create employment," the Minister said.  Cabinet approved a 12-point plan that will see the State using short-term employment schemes, business develop-ment and investment by government in a number of projects, to deal with unemployment.
A million opportunities
Short-term job schemes will include the expansion of the Community Works Programmes to about one million positions by 2013. Through the Jobs Fund, more resources will be allocated to projects that create jobs.
The Rural Development and Land Reform Department will oversee job creation aimed at helping small-scale farmers to increase their production and the development of infrastructure in rural towns. Cabinet said other interventions would include growing small businesses.
Develop skills
Minister Chabane said the Lekgotla had also proposed that all government departments spend at least one per cent of their payroll on skills development. Training should focus on increasing artisanship throughout the public service.
Cabinet also noted that the recent local elections had highlighted the need to speed up the delivery of basic services and infrastructure, especially in rural areas. On service delivery, Cabinet promised to pay urgent attention to providing water, sanitation, electricity, roads and other basic services.