Job creation remains one of government's top priorities. The New Growth Path is designed to create five million jobs in the next decade. Skills development and education are key factors in achieving this goal.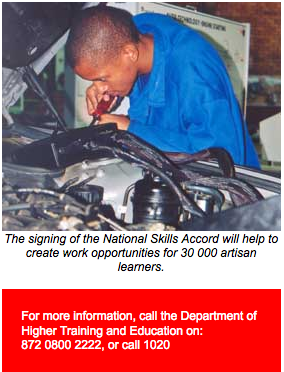 Work opportunities beckon for 30 000 new artisan learners this year thanks to the signing of the National Skills Accords in July. The accords are a partnership between government, labour and business.
The Skills Accord and the Accord on Basic Education have been created to promote skills development and education. The accords identified eight key areas, including improving the level of training using facilities that already exist and making internship and placement opportunities available at workplaces.
In collaboration with SETAs, employers have committed to the training of 30 000 artisans as part of the accords.
Internships
Each year, various companies will make 12 000 internships available for students who complete their certificates at FET colleges. Third-year students at universities of technology who need work experience as part of their qualification will get access to 5 000 internships. Work opportunities will also call for at least 16 000 lecturers at FET colleges phased in over three years.
Government will create internship opportunities in the public sector with at least 20 000 apprentices enrolled at state-owned enterprises between 2011 and 2015.
Artisan trainees
Up to 2015 Eskom will enrol 7 000 artisan trainees with an additional 400 trainees being considered depending on funding terms. Eskom will also enrol 7 500 unemployed matriculants over three years in trade skills training programmes. Transnet will enrol 3 400artisan trainees ending in 2015 with South African Airways enrolling 875 people. Denel will employ 600.
Spending on training by business will also be improved beyond the compulsory one per cent training levy with the accord urging companies to spend between three and five per cent of their total salary bill voluntarily on training.
Basic Education
The Accord on Basic Education and partnerships with schools is based on the recognition that government on its own cannot address the problems faced by the education system. This accord creates space for social partners to help improve the quality of basic education.
Schools
Under this accord organised labour, business and community organisations will support between 100 and 200 schools in 2011. This will increase to between 500 and 1 000 schools next year. "It came at the right time. The accord will help redirect resources," Basic Education Minister Angie Motshekga said.
"Addressing education and skills development is one of the core aspects of the New Growth Path," said Economic Development Minister Ebrahim Patel. The Growth Path is designed to create five million jobs in the next decade. Skills and education are key elements in the growth path.
Organised labour and business, as well as community organisations have made a commitment to support between 100 and 200 schools in the Adopt-a-School initiative.