Written by Mbulelo Baloyi
Sport & recreation
People who are older than 65 will have the opportunity to show how young and fit they still are when they compete in the Golden Games to be hosted in the Free State on 19 and 20 October. This is a national event where persons older than 65 compete in various sporting codes on a provincial level.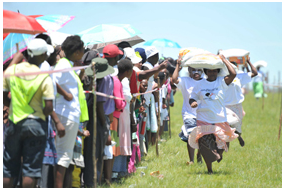 Winners of the provincial competitions then take part in the national competition in which all nine provinces compete for the top honours. Codes that form part of the Golden Games include athletics, duck walk, jukskei, and dress-up.
The Golden Games are part of the Sport and Recreation Department's Older Persons Programme.
The Games have become increasingly popular with more than 1 000 participants competing in the 2010 games held in Richards Bay in KwaZulu-Natal. The Western Cape won both the 2009 and 2010 Games.
Director of Special Projects for the Sport and Recreation South Africa Kanyane Mohlala says the Department is looking forward to an even better and expanded Golden Games this year.
Mohlala said that the department was happy to jointly run the Golden Games project with the departments of social development and health. She said these two departments had contributed to the project both at national and provincial levels.