Written by Mbulelo Baloyi
Advice and events
Statistics South Africa (Stats SA)  has put in place measures that will ensure that every person who finds himself or herself in South Africa between 10 and 31 October is counted. This will avoid missing some people in large numbers as was the case during past censuses.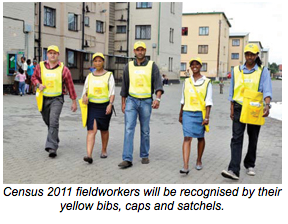 Stats SA Head Pali Lehohla says a group of more than 120 000 enumerators (or field workers as they are also called) would cross the length and breadth of South Africa from 9 to 31 October to count people in different institutions, residential homes, ports of entry such as harbours, land border posts and airports.
Lehohla said between 1 and 14 November, about 30 000 Census 2011 supervisors would conduct follow-up operations to ensure that no one would be missed by field workers during the census period.
"We are trying to bring down the number of people that we miss during counting," said Lehohla. He said the Censuses of 1996 and 2001 had shown that Stats SA had to make preparations as early as possible to make sure that it reached everybody.
For next month's Census, Stats SA has come up with three plans to make sure that it becomes successful. The first plan involves starting early with preparations such as the training of fieldwork coordinators, fieldwork supervisors and the fieldworkers who do the actual enumerating on the ground.
The second plan involves putting in extra measures such as the follow-up operations by the 30 000 supervisors.
The third plan will be a massive communication and publicity campaign after the Census.
"We believe with this three-point plan we will achieve what we set to do," Lehohla said.
Between 1 and 8 October, a massive "Know Your Enumerator Campaign" will be conducted whereby communities would have an opportunity to know the fieldworker who will be counting them in their immediate environment.
when everyone counts
Government is counting on you from 10 to 31 October when Census 2011 will be in action. 
Led by Statistics South Africa, it will be South Africa's third census since the start of democracy, with the last one held 10 years ago.
Through a census, the total number of people in a country at the time, is counted. In October, every person, including homeless people and illegal immigrants within South Africa's borders, will be counted.
Why is a census held?
This count will produce valuable information about the country's population. It will reveal things like age, gender, level of education, employment, income, standard of living and access to services like water, electricity and sanitation.
This information will help government to see what progress has been made in certain areas and what still needs to be done. The results of the census, which will only be available in 2013, will pave the way for government to plan and make decisions for the future and allocate resources where it is most needed.
What and who to look for
Enumerators (field workers with census forms) from Statistics South Africa will knock on your door during the census period. You will be able to identify them by their yellow Census 2011 over-shirts, caps and satchels and Census 2011 identity documents.
Confidential
Your personal information given to enumerators will be kept confidential and will not be shared with anyone. Enumerators will be appointed in their respective communities to cover over 14 million households.
- BuaNews