Written by Mbulelo Baloyi
Thousands of young people in a rural Mpumalanga municipality will benefit from a new youth advisory centre.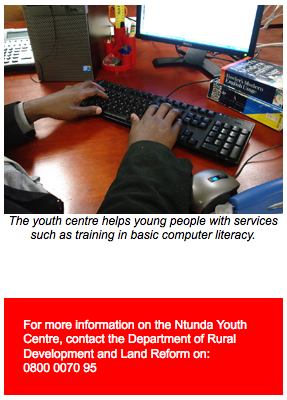 The Ntunda Youth Centre was set up at Ntunda Village in Nkomazi Local Municipality outside Malelane in Mpumalanga to provide facilities, resources, information and skills to local out of school and school-going youth.
Ntunda village has been identified as one of the poorest wards in the country by government's War on Poverty and the centre provides much-needed help to those who have limited or no study resources at home.
The centre helps young people from five local villages with services such as printing and research for their school assignments. In addition, young people also get training in basic computer literacy to enable them to write their assignments.
Funding
The Rural Development and Land Reform Department together with the Mpumalanga Social Development Department provided funding for the Ntunda Youth Centre.
An amount of R366 000 was made available through the national depart ment's Comprehensive Rural Development Programme (CRDP) and the provincial government's Community Development Programme.
The centre's Deputy Secretary, Ncamisile Lubisi, said to date R266 000 of the total funding has been used to build the centre and buy five computers and a laptop.
Internet
"The computers have full Internet connection and this helps young people when researching for their school assignments and projects. In addition, the Internet service is also used by students attending higher education centres to help them do research work for their assignments", said Lubisi. She added that the remaining R100 000 would be paid to fund the buying of the additional four computers and other needs for the centre.
Guidance
"We provide basic training in computer literacy as well help to type and print curricula vitae (CVs) for youth so that they can apply for jobs. We also teach them how to write a CV. In addition, we provide career guidance for those young people still at school," said Lubisi.
"We allow each person to use the computer for 30 minutes so that everybody can have a chance. We sometimes open during weekends particularly during examination times as the centre is also used as a study centre."
Clinic
The Mpumalanga Department of Health also uses the centre as a spaza clinic – a meeting point from which the department's mobile clinic operates once a week to provide primary health care service to villagers.