Written by Kemantha Govender
Youth matters
South Africa currently has a housing backlog of over two million units. Youth were given an opportunity recently at a youth summit to present their vision to Human Settlements Minister Tokyo Sexwale on what they would like to see in housing in 19 years' time.
Human Settlements Summit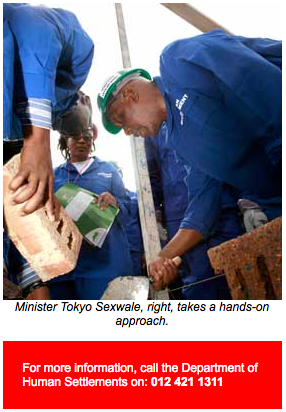 During the summit called Human Settlements: Vision 2030 Youth, which was held in Durban last month, the minister said 12,5 million people needed to get homes.
The summit focused on appropriate, affordable and good quality shelter.
Youth delegations from the nine provinces discussed their visions for affordable and quality housing projects by 2030.
 
Live and learn
The Minister said the issue of human settlements was not just about building houses, it was about transforming cities and towns and building unified, sustainable and caring communities with closer access to work and social facilities, including sports and recreation facilities.
"Where we live must also be where we can learn; where we live must also be in the proximity of leisure, where we can play ... pray and so on," the minister said.
Transformation
Arts and Culture Minister Paul Mashatile, who was also at the summit, said a programme was in the pipeline to train young people to become designers as they had a role to play in transforming the country. He also called for more youth to be trained as bricklayers and plumbers.
Financial knowledge
Sexwale urged youth to get an understanding of the role of financial services, banks and other financial institutions in terms of buying properties.
There were many uncertainties facing the youth and the uncertainty of the global economy was a major one.
The Minister said although South Africa was not affected as heavily as some other countries by the last global economic recession, the next one could have more serious consequences for our economy. He urged the youth to learn about the processes involved in owning a home, including how to apply for and access a housing loan
"Where we live must also be where we can learn; where we live must also be in the proximity of leisure, where we can play ... pray and so on."– Minister Tokyo Sexwale