Sport & recreation
In September, South African athletes will compete at the All Africa Games in Mozambique and in October, the Springboks will represent the country at the Rugby World Cup in New Zealand as the defending champions.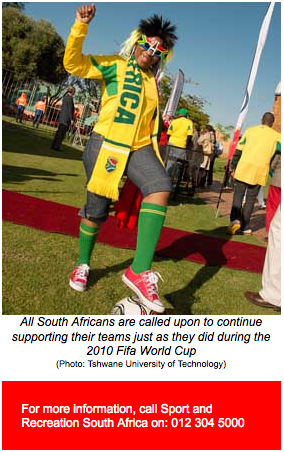 To show our support for our athletes at the All Africa Games and for the Springboks who will represent our country at the Rugby World Cup, South Africans must continue flying the flag and wearing the national colours.
Proud history
This is very important says Minister of Sport and Recreation Fikile Mbalula. He urged all South Africans to support their teams just as they did during the 2010 Fifa World Cup. 
"South Africa has a proud history of being a successful sporting nation. Sport is an important part of our culture and a multibillion rand industry that contributes more than two percent to the country's gross domestic product," Minister Mbalula said. 
The Department has also launched the Ekhaya initiative called 'Home Away from Home'. It is a hospitality village concept that government wants to stage at sports events.
The initiative reinforces the fact that South Africans are united behind the national teams at the Rugby World Cup and the All Africa Games.
The Ekhaya initiative is a platform owned by Sport and Recreation South Africa, mainly to offer hospitality services to South African sportspeople and their families. It also aims to promote South Africa as an attractive destination for business investment and tourism. The project is managed in partnership with the International Marketing Council of South Africa (IMC) and SA Tourism.
Play your part
The IMC, through its "Play Your Part" campaign, has partnered with the Department of Sports and Recreation on a domestic and international campaign to mobilise South Africans to support the RWC and All Africa Games, under the Magnificent Friday's banner.
President of the South African Rugby Union (SARU), Regan Hoskins presented the Minister of Sport and Recreation with a Springbok supporter jersey at the launch and said he was encouraged by government's support.
"We are delighted with and fully behind the minister's call to all our citizens to support the Springboks and Team South Africa at the All Africa Games.
Green and gold
"SARU values this support and encouragement by the Minister of Sport, the IMC and South African Sports Confederation and Olympic Committee for our national rugby team, and want to all South Africans to show their passion and support for these two SA teams by proudly wearing the Green and Gold colours," said Hoskins.
So show your support for your country. Fly the national flag and wear supporters' jerseys or team colours on Fridays in the build-up to and during these sports events.
The Springboks are the reining Rugby World Cup champions and will defend their title in New Zealand later this year. The All Africa Games will take place in Mozambique in September.