International relations
South Africa is reaching out and helping to build the newest African nation, South Sudan. South Sudan is the world's newest country. It was born on 9 July this year, after it broke away from Sudan.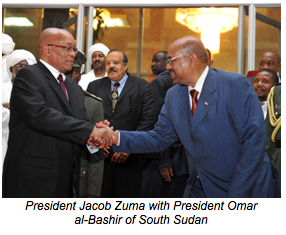 The people of Sudan and South Sudan voted to split in January 2011 as part of a 2005 peace deal aimed at ending the decades of violence between the two sides.
South Sudan is the 54th state in Africa and the 193rd member of the United Nations. However, the decades of unrest has left the country with a number of challenges like poverty, lack of basic infrastructure, political insecurity and lack proper of government structures.
Skills training
South Africa has already helped to train more than 1 500 South Sudan government workers and representatives. The training will improve the workers' skills, which will in turn boost job creation and service delivery.
South Africa also aims to sign a Memorandum of Understanding regarding agricultural development. This will help to build up South Sudan's economy and will support food security.
The South African government has also undertaken to continue giving aid to both the Republic of Sudan and South Sudan, to help fight poverty in both countries.
Peace
South Africa has played an important role in bringing peace to Sudan and South Sudan. Among others, former president Thabo Mbeki was a leader for the African Union team that participated in negotiations to bring an end to the conflict in Sudan.
"As South Africans we are truly humbled to have contributed to ensuring a sustainable peace in the Sudan. We have always aspired to witness the dawn of peace, security and stability prevailing in the whole of the Sudan. That dream is coming to fruition," said President Jacob Zuma.