Written by Samona Murugan
With the 2011 matric examinations just weeks away, every learner should be making the most of this time to prepare for the most important exams of their school careers.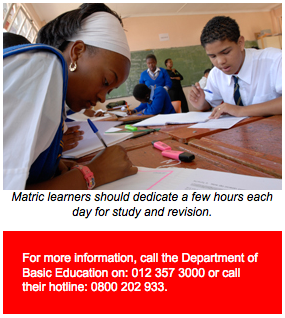 For Grade 12 learners, the last and most important lap of their school careers starts on Monday 24 October 2011 when they will sit for the final matric exams.
But, in the spirit of the national call to action, "Working Together, We Can Do More", success in the exam room doesn't depend only on the learner's effort. Matric is a family – and community – venture and adventure.
All parents should support their children to ensure they perform at their best as these exams may be the most important they may ever write.
Learners should be encouraged to make studying part of their everyday routine, to avoid the risk of last-minute cramming.
The Department of Basic Education offers the following tips to help learners make the best of their study time:
Establish a routine
Dedicate a few hours each day for study and revision. Learners should also set a timetable so that they cover all subjects in an organised way. Vary the study programme so that each day is dedicated to a different subject.
Create a comfortable study environment
Create a comfortable environment for studying and revising away from all distraction, such as television and other household noise. Make sure you have all your required study materials before you start studying. This will ensure you are able to focus without disruption.
Read and write
Reading correctly is an essential skill to ensure you understand the exam questions and answer accordingly. Read at least 1 000 words every day. The same goes for writing. Write at least 400 words every day – carefully and accurately.
Past papers
Make use of the exemplars and past Grade 12 examination papers that are available. They will provide learners with a sense of how the examination papers are laid out and what is expected of them. These papers are often made available by schools and can be found on the Department of Basic Education's website, www.education.gov.za along with other study material.
Look after yourself
Drink plenty of fluids, especially water, and eat healthy foods. Keep sugary and fatty foods to a minimum. Make sure you get enough sleep each night. Get regular daily exercise and try to keep up sporting activities.
Use your support systems
Don't be afraid to ask for help from your family, friends or teachers. Whether it's grasping a new concept or understanding something you learnt earlier in the year, they will be happy to help.
How can parents help?
Make sure there is a quiet place for your child to study.
Display the exams timetable where everybody can see them.
Reduce the chores your child has been given so that he or she can concentrate on studying.
Monitor how your child studies.
Do not take over, but work through a problem with your child.
Be a role model for learning; for example, read newspapers, read with your child, remain committed to lifelong learning.
Be part of what your child learns in everyday life.
Most importantly, show interest in school and homework.