"Access to justice is a fundamental human and democratic right, a central pillar of a free and equal society," said President Zuma.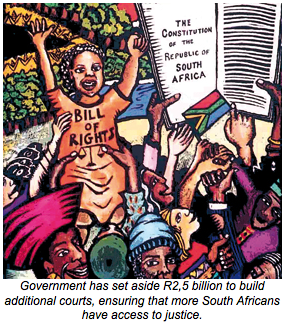 Speaking at a recent conference on access to justice, President Jacob Zuma said that more courts were needed since some South Africans did not have transport to reach courts, which were often far from their homes.
Quality justice for all
The theme of the Johannesburg conference, attended by 350 delegates from 11 countries, was Towards Delivery of Accessible Quality Justice for All.
Traditional leaders, representatives of civic organisations and the Portfolio Committee on Justice, as well as members of the legal profession and the Department of Justice and Constitutional Development were among those who attended.
Wrongs affecting rights
"Access to justice is a fundamental human and democratic right, a central pillar of a free and equal society," said President Zuma.
"Many people do not know the law and do not exercise their rights due to poverty-related lack of education and ignorance," he said.
He noted that although much progress had been made in improving access to justice for all South Africans, issues such as poverty, lack of education and resources interfered with  government's delivery on this constitutional right.
President Zuma said because the poor did not have resources, they could not afford  legal fees and therefore could not fully enjoy equal benefits. While Legal Aid South Africa offered legal representation free of charge to those who cannot afford it, there was a need to expand this service.
He said more than R437 million had therefore been set aside to increase the work of Legal Aid South Africa.
Justice for women
To promote access to justice for women, government is continuing with its programme of establishing Thuthuzela care centres for victims of sexual and domestic abuse. The number of centres recently increased from 17 to 27.
The centres provide services and support to women and girls who are victims of domestic violence and sexual abuse. It also offers them temporary shelter until long-term solutions are found.
Basic rights
President Zuma added that the public needed to be educated about the justice system so that they could become aware of their basic rights, as well as the different courts and the structures they could turn to with problems.
The lack of communication about court cases was a source of frustration for those involved, he noted. People often travelled long distances only to find out their cases had been postponed.
Government was therefore looking at ways to ensure that victims of crime attended court sittings, enabling cases to be concluded successfully.
Legal Aid South Africa has a toll free call centre to assist with legal advice on child and family law, as well as land disputes. The Legal Aid Advice Line number is 0800 110 110.