Since the Gautrain project got off the ground some two years ago, more than 100 000 direct and indirect jobs have been created. In the longer term, about 2 700 direct and indirect jobs a year would be created for operation and maintenance of the system.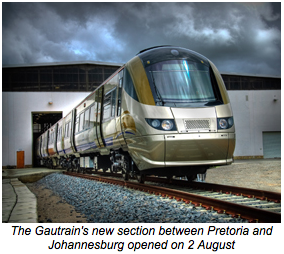 It is estimated that by the end of October this year, more than R3 million had been spent on buying locally produced goods for the Gautrain, while a further R2 million had gone towards small businesses involved in the project. Since it first began operating the Sandton to Oliver Tambo International link at the beginning of June 2010, more than a million passengers have made use of the Gautrain.
Transport Minister Sibusiso Ndebele has welcomed the latest phase of the Gautrain from Johannesburg to Hatfield in Pretoria, which opened on 2 August. It will extend from Rosebank Station in Johannesburg to Hatfield in Pretoria. The Gautrain's bus services will also be fully operational along this route.
"The main challenge facing our country is to modernise our railway system in a manner that promotes growth and development. We need new rail technologies to meet the demands of the 21st century," said Ndebele. "Our ability to efficiently move freight and people is vital to a modern, thriving economy."
Travelling at 160 km/h and taking 38 minutes between Johannesburg and Pretoria, the Gautrain will set a benchmark for similar developments in the rest of the country.