Written by Samona Murugan
Disability
The Department of Women, Children and People with Disabilities (DWCPD) is on a mission to break barriers that stand in the way of people with disabilities.
In line with the United Nations theme, 'Break barriers and open doors for an inclusive society for all', South Africa has gone a step further for this year's International Day of People with Disabilities.
South Africa has introduced five focus areas under the international theme to mark the occasion on 3 December. The five areas are access to public transport, promoting sign language, improving access to braille material, promoting the use of right terminology and increasing access to and sensitivity at places of worship.
Deputy Minister of Women, Children and People with Disabilities Hendrietta Bogopane-Zulu says the department, launched by President Jacob Zuma in May 2009, is responsible for promoting equal opportunities and access to these opportunities for women, children and people with disabilities.
Deputy Minister Bogopane-Zulu says her pet projects are disability, anti-poverty and HIV and Aids relating to women and children, and persons with disabilities.
"For me disability hits home, it is personal. Being visually impaired and raising two children that are visually impaired as well, makes disability my first passion. As a mother, and as a public servant, I want to create better services, opportunities and a better life for people like myself and my children - being able to do that is me at my best."
Breaking barriers in SA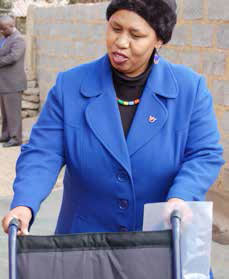 One of the barriers the department wants to overcome is to improve the access of people with disabilities to public transport. Despite certain buses and trains being equipped with disability friendly features, most of the public transport in the country is still inaccessible for someone in a wheelchair.
"What is the point of creating jobs for people with disabilities if they cannot take a bus or taxi to work?"
The Deputy Minister says the department is currently working with the Department of Transport to revamp transport infrastructure and the current transport system to make it more accessible for people with disabilities.
To overcome the language barrier facing deaf people, the department is working with other departments to introduce sign language as the twelfth official language in the country. It will also be the first official language for deaf learners or those with hearing disabilities.
Another major achievement is the introduction of sign language as a subject at school. Come January 2014, all learners at mainstream and special schools across the country will be able to take sign language as a subject.
In an attempt to improve access to braille material for persons who are blind or visually impaired, South Africa enforced the Marrakesh Treaty which was signed by 51 countries in June this year. The treaty allows for copy- righted books to be reproduced in braille.
The treaty makes it legal to send braille books across national borders. For example, with South Africa approving the treaty, blind people in the country will be able to access books from the United States.
"We need to break the barriers of terminology and how we refer to people with disabilities, and those who suffer from albinism."
Albinism is an inherited condition that affects a person's pigmentation. This means that a person is unable to produce normal colouring of the skin, hair and eyes.
There are many challenges facing those who suffer from albinism or disabilities - like being treated as an outcast.
To address these challenges, the department will soon host the first ever conference for people with albinism, together with linguists, traditional healers, and government and com- munity leaders.
"As a nation it is about time that we join forces and talk about issues and the realities persons with albinism face. We need severe introspection on how we treat people with albinism in the country," she stressed.
Place of worship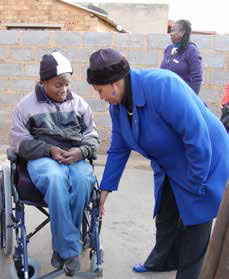 The focus is also on access to places of worship and religion. If you stop and look at the designs of a church for example, she says, a person in a wheelchair cannot sit in a pew or go up to the altar to receive communion. Instead they have to worship from the middle of the aisle or from the back of the church.
"We need to tackle and improve infrastructure across all places of worship from churches, to temples and mosques."
The last barrier affecting the dignity of a person with disabilities is the interpretation of the scriptures. "In many communities, disabled persons are portrayed as objects to reaffirm faith. If someone has been in a car accident and ended up in a wheelchair, certain religious leaders use this as a façade to pray for them so they will stand up. These kinds of things are disrespectful and perpetuate disability discrimination. It creates a barrier for someone who just wants to be a spiritual person," she adds.
The fruits of freedom
Deputy Minister Bogopane-Zulu expresses satisfaction that the advent of democracy has improved the lives of people with disabilities but admits that more needs to be done.
"The major impact we have made as government is restoring dignity to the lives of our people. Previously, people with disabilities were looked down upon and as burdens on society. I was a rural, black, disabled woman. I was less of a human because I was black, added on top that I was a woman, and to top it off I was disabled - I was invisible in society, but today people like me have a chance at a better life."
The Deputy Minister says government has improved access to education for people with disabilities.
Previously, only white disabled children were allowed to go to school. Now, thanks to inclusive education and the introduction of special schools across the country, a disabled child can go to any school he or she wants to.
"As a parent you can now choose which school you would want your child to attend, be it a mainstream or a special school. A principal has no right to deny a child access to education and if a school is not accessible to your child, that is not your problem, it is government's problem to make sure your child is able to learn."
She adds that with the establishment of the Higher and Further Education Disability Services Association (HEDSA) last year, more disabled students are now going to tertiary institutions and Further Education and Training colleges.
HEDSA is a non-profit organisation that represents and assists disability services at higher and further education institutions in the country.
To further increase the number of disabled graduates, the National Student Financial Aid Scheme (NSFAS) revised its guidelines to en- able disadvantaged and disabled learners to access funding. NSFAS also gives disabled learners access to assistive and technical de- vices should they need them, which was never possible before.
The Department of Social Development also introduced a disability grant, and should you acquire a disability, government now makes provision for an additional grant that will en- able you to make your house accessible, says Deputy Minister Bogopane-Zulu. "This is an additional grant, a benefit we have never had before."
Previously parents of disabled children had to carry disability costs on their own, but thanks to government interventions, parents get every disability related expense paid back to them, when they submit their tax returns.
Disability Month will kick off in Northern Cape on 3 November, with a multi-faith dialogue between religious leaders and persons with disabilities. "We are trying to identify barriers and pave the way forward for people with disabilities," she said.
For more information contact the Department of Women, Children and People with Disabilities on 012 359 0000.