International relations
Relations between South Africa and France look set to grow stronger following the recent visit to the country by French President François Hollande.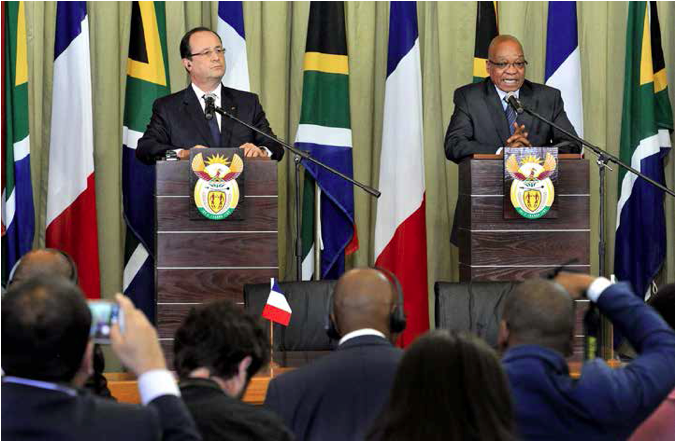 President Zuma hosted his French counterpart in a two-day State visit which saw the two countries sign agreements on rail and energy. The agreements are expected to boost gover ment's effort to create jobs and stimulate the ailing economy.
France is South Africa's third-largest investment and trading partner in the European Union. Between the period 2004 and 2012, French companies invested R15 billion in South Africa, creating significant jobs.
Cooperation between South Africa and France cuts across a wide range of areas from defence, development cooperation, science and technology, arts and culture, to energy and agriculture.
Power utility Eskom signed an agreement with French energy firm GDF Suez for the establishment of a thermal power plant to the amount of R20 billion.
"Today marks yet another important mile- stone in the bilateral relations between South Africa and France. We have agreed that we need together to develop trade in a balanced manner," said President Zuma.
The two presidents also signed a contract for the overhaul of South Africa's ageing rail fleet by French firm Alstom, which is set to create thousands of jobs.
The contract spells out plans for replacing the country's passenger train rolling stock as part of Passenger Rail Agency of South Africa's (PRASA) 20-year plan to overhaul the rail system.
The deal will see Gibela, led by French company Alstom, building 3 600 passenger coaches for the rail agency over the next ten years. As part of the agreement, most of the parts used in the work are to be manufactured in South Africa.
President Zuma also encouraged businesses in both France and South Africa to expand cooperation in areas such as tourism, infrastructure development, agriculture, manufacturing, mining and beneficiation. "Already there are ongoing investments by French companies in major infrastructure projects in the country," he added. Lecturer in international relations at the
University of the Witwatersrand David Hornsby says the agreements will boost relations between the two countries. "The agreements signed between South Africa and France, as they relate to energy production and rail development, brings the two countries closer together.
"France is providing important investment and expertise to help build South Africa's capacity in energy production and rail services. This means that both South Africa and France are partners, establishing bonds that will hopefully lead to further cooperation in other areas."
Hornsby also said that the agreements mean South Africa is doing well in cementing its leadership position as an energy producer in the region and ensuring that its sophisticated infrastructure and logistics capacity is maintained.
The two presidents also discussed ways of tackling the different conflicts across the African continent, such as those in the Democratic Republic of Congo and the Central African Republic.