Written by Mduduzi Tshabangu
At the foot of the majestic Drakensberg mountain range in the Mazizini village near Bergville, KwaZulu-Natal, a group of women can be seen peddling handmade traditional artworks to tourists who frequent the area – a natural spectacle which has been declared a World Heritage Site.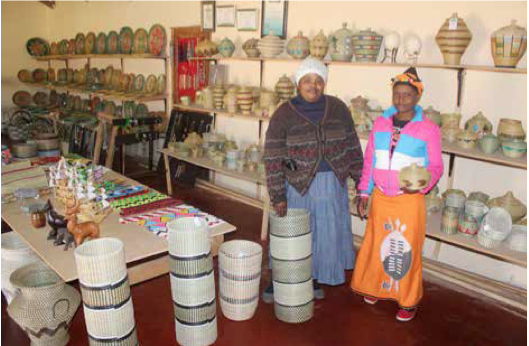 The women are members of Thandanani Crafters, an award-winning co- operative that makes and sells picnic baskets, umbrella stands, laundry baskets, jewellery baskets, beadwork and a variety of mats. For tourists who frequent the area, these are valuable souvenirs – rich in memories of their South African trip.
Beauty Mbongwa, manager of the 48-member Thandanani Crafters Cooperative, says their little craft centre now forms part of the tourist attractions of the area. Members generate a steady income and with help from the Department of Trade and Industry (dti), they have exhibited their products overseas. Their biggest client is a Cape Town-based buyer who places sizeable orders every month for clients abroad.
Mbongwa says she learned her traditional craft from her grandmother at Mazizini and she's grateful that she can now make a living from it. She says the past 20 years have been good for business but things were hard in the beginning.
Mbongwa recalls the early days when the women sold their artworks individually, and in the open. "In the early 1990s we used to make our traditional artwork and sell to people on the streets. You would find that some- times it would rain and our goods would get damaged." Things changed in 1993 when local businessmen clubbed together to build shelter for the women to sell from. In 1994, the women moved into the new structure and stock loss was drastically reduced. This improved their working conditions and increased their turnover, says Mbongwa.
"For most of my life I did not work. With this money, I have been able to build a house. My son is also a chef at a leading hotel. I put him through school because of our craft. The tourism sector really does wonders for our business."
Mbongwa says at first they were not sure how they could use their craft to benefit from the thriving tourism sector and help develop their community. The women experienced a turning point after formally registering their business.
"In 2005 we decided to formalise our bus ness and officially registered it with Cipro. This really helped us because from 2007, we were able to travel to the United Kingdom, Iceland and Italy to market our products and the country through the dti and the Dube Trade Port."
The Thandanani Crafters Cooperative has won awards such as the Department of Economic Development's best managed cooperative in 2009 and was also placed third in the African SMME Awards in 2011.
Mbongwa says even though the business is now thriving, they still needed training to cope with the large orders they are getting.
When KwaZulu-Natal MEC for Tourism and Economic Development Mike Mabuyakhulu delivered his Budget Vote this year, he said tourism in the province was a source of employment and livelihood to a number of families and provided the province with foreign currency.
Tourism remains an important economic sector in KwaZulu-Natal, contributing about 10% directly and indirectly to the province's GDP, he added.
MEC Mabuyakhulu's department has developed a Provincial Tourism Master Plan to coordinate tourism planning, development and management across the province. The plan is aligned to the Provincial Growth and Development Strategy that sets targets up to 2030.
"The plan provides for a scope to set targets that are measured to gauge tourism growth in all tourism related sub-sectors. These targets include a R65.2 billion contribution to the GDP, 183 820 direct jobs to be created by 2020, increase the number of domestic arrivals to 24, 17 million by 2030 – which is a significant leap of almost 50% from current figures."
The targets set in the master plan are also aligned to the National Tourism Sector Strategy. One of the iconic tourism projects identified in the plan is the Drakensberg Cable Car, which is set to change the tourism landscape in the province.
"We are in the process of appointing a service provider to develop a feasibility study and a business plan for the Drakensberg Cable Car and we are confident that this additional landmark to our list of tourism products would have unparalleled spin-offs," said Mabuyakhulu.
Indeed, the Thandanani Crafters Cooperative looks set to ride on the back of this surge in tourism to KwaZulu-Natal.