Written by Samona Murugan
Youth matters
More than 1 300 young ambassadors from 190 countries descended on Johannesburg last month, as South Africa played host to the One Young World (OYW) Summit. Founded in 2009, the summit rallies together young people from around the world, inspiring them and establishing lasting connections to create positive change in their communities.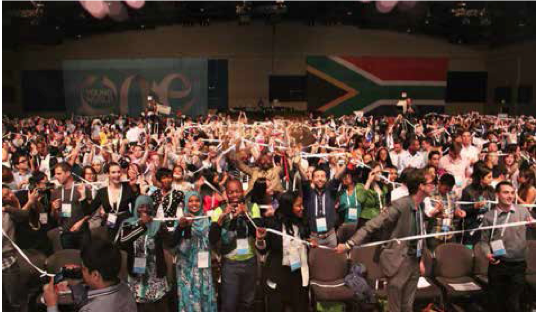 Addressing challenges such as health, education, HIV and Aids, agriculture and environmental issues, the summit allowed the youngsters to voice their concerns and share insights and wisdom on these global challenges.
This year's summit was graced by former United Nations Secretary-General Kofi Annan and celebrity chef Jamie Olive. Global entrepreneur Sir Richard Branson made his first appearance as a OYW counsellor.
Branson, an icon of entrepreneurial success, called on youth to explore how to mobilise corporate resources for social benefit and to address social and environmental problems in an entrepreneurial way, while chef Jamie Oliver hosted a panel discussion on the Food Revolution, his United States based television show and a movement to fight obesity and get Americans to eat more healthily.
Sport icons such as tennis legend Boris Becker, rugby players Francois Pienaar and Ashwin Willemse and Olympic swimmer Ryk Neethling also stepped forward to discuss sport and society, highlighting the power of sport to influence positive change.
The annual One Young World Summit, held in South Africa for the first time, raised questions about the international challenge of youth unemployment.
Executive Mayor of Johannesburg Parks Tau said the summit was an ideal platform for driving change and development.
"We hope to do this for education in Johannesburg, as education is key to the future of our youth." He described Johannesburg as an exceptionally youthful city with half the city's population under the age of 34.
"This has the potential to create a very dynamic and vibrant society with a strong emphasis on innovation, enterprise and creativity. We firmly believe in planning with people – not for them. The youth of our city is a critical constituency, and we are constantly refining our efforts to engage them in planning processes."
Ambassadors of change
For Secunda-based Lwazi Mqadi, being an ambassador was a great accomplishment. This change leader, who believes in finding solutions to challenges in her community, was chosen from thousands of applicants by Sasol to attend the Summit. "I believe that everyone is a star, and just like a star, which continually generates heat and light energy for other universal bodies to be lit up, everyone has infinite potential in them to be just as great and successful.
"Everyone can make a difference and be a source of other people's well-being and fulfilment. People just need a platform to discover their potential. I am passionate about providing this platform," says Mqadi.
Her passion for education led her to start the Nyeleti Saturday School initiative. Along with friends, she provides mathematics, science and English extra classes for learners from local schools.
Still not satisfied, she started a pre-school in the Holfontein Informal Settlement to cater for children whose families could not afford to send them to school. The pre-school is registered with Accelerated Christian Education (ACE) Ministries, and ACE is currently training unemployed members of the community as teachers. Mqadi also led a fundraising project to build an orphanage for the Umphumela Drop-In Centre. With the assistance of Sasol, she raised R140 000 for the project.
Another South African ambassador was KwaZulu-Natal born Crispian Lees. Motivated, innovative and personable, Lees says his passion lies in improving education and water quality in South Africa.
After matriculating in 2005, Lees worked as an instructor at Spirit of Adventure in Shongweni, an outdoor leadership centre in KwaZulu-Natal. This opportunity allowed him to work with schools in developing teamwork and leadership skills programmes. The work was instrumental in bridging cultural divides and building character and relationships within the teams.
In 2007, Lees began his studies in chemical engineering. "I couldn't help but notice the shortage of skilled maths and science teachers in our country, as well as the growing knowledge gap between high school and university," he says. With this in mind, he co-founded an educational organisation called Advantage Maths that provides Advanced Programme Mathematics courses to schools. He currently tutors mathematics and science to Grade 11 and 12 learners from underprivileged schools in the Sasolburg area through the Fundani Nathi training and outreach programme.
Another delegate Emmanuel Jal was a Sudanese child solider, who now calls himself a peace soldier, using music and activism to spread a different message.
Jal, who spoke at the summit, says education changed his life. "Education helped me on a very personal level," says Jal, recalling the ethno-religious tensions that often fuelled conflict between the north and the south in Sudan.
"Back then I hated Muslims and Arabs," he recalls, saying he had been led to believe they were the cause of the conflict in southern Sudan.
"Education is what helped me understand the political situations and how economics affects the world. I realised that human beings are the same."
Today he is an internationally recognised musician and humanitarian who believes in the vision of education, dialogue and youth mentorship as a path towards fostering peace and empowerment, especially in situations of poverty and war across Africa.
"Africa is the way it is because of most African people not taking the steps to move forward. At the One Young World Summit I have seen a lot of young African leaders taking the lead from the grassroots up, and that is the light, that is the hope."
For South African ambassador Aslam Levy, attending the One Young World Summit was an exceptional honour. Two sentiments from the summit have resonated with the 30-year-old social media director at the Government Communication and Information System (GCIS). The first was introduced by Kofi Annan, as he encouraged delegates to "think globally, and act locally".
"This statement enforces that the issues we face today are of a global nature and that we must tackle them together." The second quote which hit home, says Levy, is "if you want to go fast go alone, but if you want to go far, go together".
Levy, together with three close friends, co- founded the Inspirational Women International Foundation. This non-profit organisation helps improve and uplift the lives of young women and girls through various community programmes across the country. Through motivational talks and first-hand experiences shared by inspirational women around the globe, the foundation is able to break the barriers that prevent young women from realising their true potential.
The next One Young World Summit will be held in Dublin, Ireland from 15 to 19 October 2014.