When Kenalemang Kgoroeadira swapped chalk and duster for a pick and shovel to start a farming project, she had no clue that she would one day be crowned the Best Subsistence Farmer of the Year.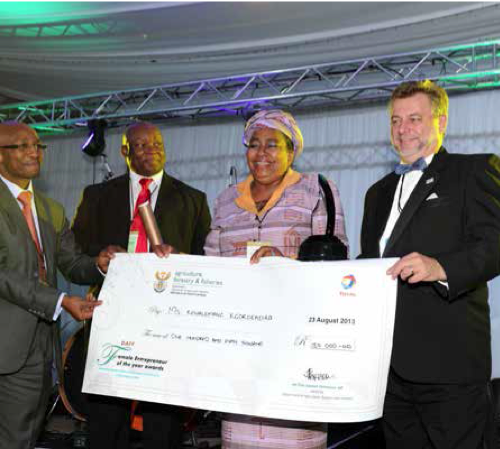 Kgoroeadira had been a teacher for 19 years, from 1978 to 1997, before leaving her post to become a farmer.
"I'm still doing teaching even now. I still teach the people I work with on the farm," she says, referring to the employees she mentors.
Kgoroeadira's Thojane Organic Farming entered the Department of Agriculture, Forestry and Fisheries's Female Entrepreneur of the Year Awards for the first time when she won the Best Subsistence Farmer of the Year award. She says she will use her R150 000 prize money to buy much-needed equipment for the farm.
The Best Subsistence Farmer category caters for beginners in the sector, who are expected to demonstrate innovation in improving production, responsible use of production inputs, understanding of improved farming methods, job creation and economic development.
Kgoroeadira employs three women and two youths permanently, and sells her produce at the local schools' feeding schemes and supermarkets. Another five people are employed seasonally.
"Currently we supply school feeding schemes in the Bafokeng schools and the Foro Spar in Tlhabane," she says.
Unlike traditional farming methods, organic farming does not use any chemicals and is a form of farming that relies on techniques such as crop rotation, green manure, compost and biological pest control.
'Mamakena' as Kgoroeadira is affectionately known, started Thojane Organic Farming in Phokeng, outside Rustenburg, in 2009. The two-hectare plot produces a variety of vegetables, including potatoes, butternut, green beans, spinach, carrots and cabbage.
The farm also produces herbs such as rose geranium, rosemary, thyme, lemon verbena, lemon grass, yarrow, mint, garlic, parsley and lavender.
MEC for the North West Department of Agriculture and Rural Development Desbo Mohono said Thojane Organic Farming's desire and passion to positively contribute towards household food security, healthy lifestyles, job creation and economic development deserved recognition and encouragement.
MEC Mohono further committed that her department would continue to work with other stakeholders to ensure that women managed projects are supported and guided to produce quality and nutritious products.