Following a summit held recently on Broad Based Black Economic Empowerment (BBBEE), government is to move swiftly to make sure that economic empowerment benefits a broader spectrum of black South Africans.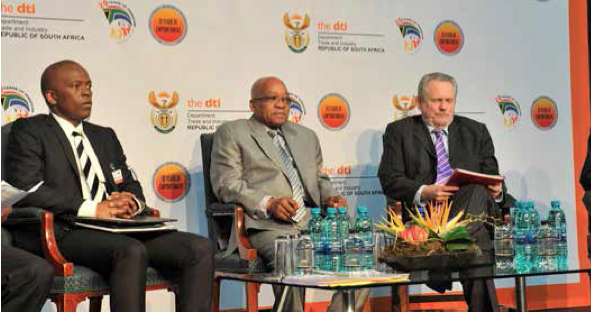 Companies will be required to from next year help transform and build the economy by supporting and buying from black suppliers. This is in line with the gazetting of the amended BEE codes of good practices last month, which are set to come into force in October next year after a one-year transition period.
Those firms that fail to achieve a minimum number of BEE points procuring from and helping black enterprises also risk having their BEE score downgraded.
The Department of Trade and Industry (dti) is now meeting with various companies to explain the significance of the new codes. "We want SA inc to really embrace this and come on board," said Nomonde Mesatywa, the department's chief director of BEE.
She said the BEE summit held in Midrand in October, which was opened by President Jacob Zuma, saw over 1 000 delegates attend even though attendance had been capped at 700. Those attending included corporates, small businesses (including those that exhibited at the summit), policy makers and BEE consult- ants and those at verification agencies. "I think people were positive, they were applauding the new direction (of BEE)," said Mesatywa of the reaction by delegates at the conference.
The battle against fronting
The new codes are also designed to stamp out fronting. Dti Minister Rob Davies said fronting was one of the practices that had set BEE back. "We found that there was significant fronting in the economy." Through fronting, some companies had essentially not been entirely truthful in their dealings.
Minister Davies said there were a lot of complex transactions where companies were not entirely truthful with their credentials in relation to BEE compliance so as to derive benefits such as clinching tenders.
This was a form of fraud, Minister Davies said.
Slow progress
In his speech at the BEE summit, President Zuma said though the appointment of black people and women to senior management positions in the private sector has increased from less than 10% in the 1990s to over 40% today, the country has yet to see the growth of black industrialists despite government's aggressive focus on boosting the manufacturing sector.
"The day we see factories all over the country owned by black entrepreneurs taking advantage of our Industrial Policy Action Plan, we will be moving towards achieving our BBBEE goals," he told delegates. He said the new BEE codes would ensure that both public and private sectors procure a certain percentage of goods and services from local black-owned and controlled entities.
While the Cabinet is tackling late payments to small enterprises through a special project run by the Department of Performance Monitoring and Evaluation and the National Treasury, President Zuma also highlighted the support that government had given black businesses, including:
• The approval since September 2010 of 2 128 applications to the value of R797 million through the Department of Trade and Industry's Black Business Supplier Development Programme, which helps to fund equipment and improvement in management practices for black-owned firms.
• The approval of over 500 transactions worth over R5 billion to black-empowered businesses by the National Empowerment Fund (NEF). To date the NEF has supported in excess of 44 000 jobs.
Over 200 cooperatives were supported through the Co-operative Incentive Scheme, creating over 2 700 job opportunities, in the past year. In all 100 small-scale cooperatives offering around 500 new job opportunities were established, and more than a 100 cooperatives were assisted to enhance their market access through local and international exhibitions.
10 years of BEE
This year marks a decade of the existence of BEE. Dti Director-General Lionel October said it was time to critically assess progress made since the implementation of the legislation.
The President said that throughout the decade, there had been successes and challenges in the implementation of the legislation, and that the summit was intended to reflect on what has worked and what has not, so as to build a truly inclusive economy.
The South African economy had expanded by 83 % over the years, with total employment having increased by more than 3.5 million since 1994.
President Zuma noted that there had been growth in the black middle class. He said al- though progress had been achieved with BEE, the country still faced unacceptable levels of poverty, inequality and unemployment.
But he expressed concern that the income earned by different races remained unequal.
Progress made in terms of BEE transactions, according to National Treasury, was that over R600 billion in BEE transactions had been recorded since 1995. The National Empowerment Fund (NEF), which is mandated to grow black economic participation, has approved over 500 transactions worth over R5 billion to black empowered businesses across the country.
However, there was a need to bridge the gap between the rich and the working class. The average African household income is R60 613 and the annual income of the average white household is R365 164. There were still unacceptably high levels of poverty, inequality and unemployment.
President Zuma encouraged the growth of SMMEs that are owned by black people, women, youths and people with disabilities.