Written by Samona Murugan
Following a successful career as an ostrich farmer, Felicity Fillies is now looking to breed a new generation of entrepreneurs.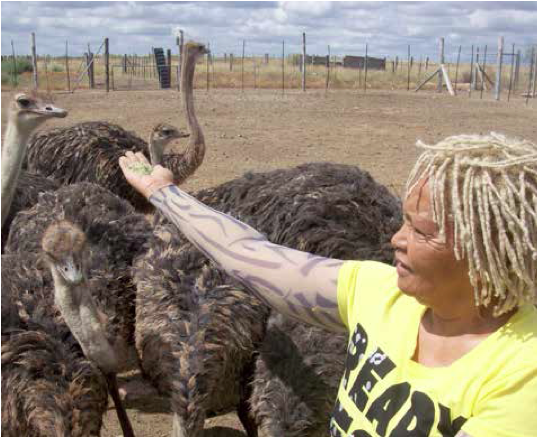 Fillies, who is a teacher-turned-ostrich farmer, runs one of the most successful ostrich farms, Nieuborn Ostrich Farm, in the country and farms hundreds of ostrich per season for meat and leather.
Now, with the launch of the Power of One - a new entrepreneurship project for high school girls in De Aar in the Northern Cape – Fillies has made youth entrepreneurship her priority. As part of the project, 20 Grade 11 learners from De Aar will be mentored by Fillies on entrepreneurship.
The girls were chosen from four schools in the area and are all doing business studies as a subject. Fillies will carry out mentorship workshops teaching the youngsters how to be business-minded and think like entrepreneurs. She is currently also in talks with the Department of Basic Education to expand this pro- gramme so other local successful entrepreneurs can pass on their expertise, experience and business skills to learners across the country. The De Aar girls will work with Fillies until they matriculate.
Born in Colesberg and raised by her grandparents, Fillies decided to become a teacher.
She obtained a Bachelor of Arts degree from the University of South Africa and a Bachelor of Education degree from Free State University before returning to her hometown to teach at her old school, Orion High in De Aar. Through various community involvement projects, she soon developed a passion for uplifting and helping others, so she quit her teaching job in 1996 and became a district councilor.
Being a woman who thrives on challenges, Fillies was dared by a friend to take up ostrich farming. She decided to give it a go in 2004 and has never looked back.
To get her started she was given six ostrich chicks by a nearby farmer. "I became so interested in ostriches and was very eager to learn more. I wanted more birds, but could not afford them."
Fillies started selling her prized possessions to raise capital and bought 100 baby birds after selling her dining room set.
Her business grew from strength to strength as she supplied meat to Klein Karoo International, which distributed it throughout the country. In 2005, she won the top female farmer of the year award from the Department of Agriculture.
Fillies also scooped the award for top producer for informal markets. This marked a turning point in her business and she became an extremely well-known ostrich farmer locally and internationally.
Fillies then became the first black member of the South African Ostrich Board. Today she is also one of the Small Enterprise Development Agency's (Seda) top 80 businesses in the country.
Seda assisted Fillies in drawing up a business plan, set up her company website and more. She also received assistance from the Department of Agriculture, Forestry and Fisheries which supplied her farm with an animal feed plant, adding further value to her business.
Her success has allowed her to visit China, America, India, Singapore and Thailand to promote her ostrich farm and products.
As a result, her business is also promoting the Brazil, Russia, India and China (BRICS) summit objectives of stimulating growth and tackling poverty in the country.
Today she runs a successful international-farming cooperative, sells approximately a 1 000 birds each season and employs 10 full-time workers. She also produces and sells animal feed to local farmers.
Despite her love for ostrich  farming, Fillies says the ostrich business in South Africa  is extremely difficult. In 2011, after a bird flu outbreak in Europe, ostrich meat was banned from the European Union countries. The ban saw almost 50 smallholding ostrich farmers in the country go under.
Even though her business took a serious knock, Fillies diversified and extended her business to produce products such as handbags, fascinators (a hat made of ostrich feathers) and corporate gifts. Despite the ban remaining in force, Fillies is still able to export cooked ostrich meat to Europe but this comes at quite a high export cost.
"I am always searching for new opportunities and am still learning a great deal about ostrich farming and the greater ostrich product market. Each day I explore new frontiers and meet new clients and business prospects for which I am thankful."
The secret to success, says Fillies is to have the right mindset. "You need to be positive, hard working, and never ever give up."
Through her new project, she hopes to empower young women in the province to reach their full potential.