In 2000, Mapule Lebakaeng returned to her home village of Motsitlane in North West, ready to use the skills she had acquired in Johannesburg to uplift her community.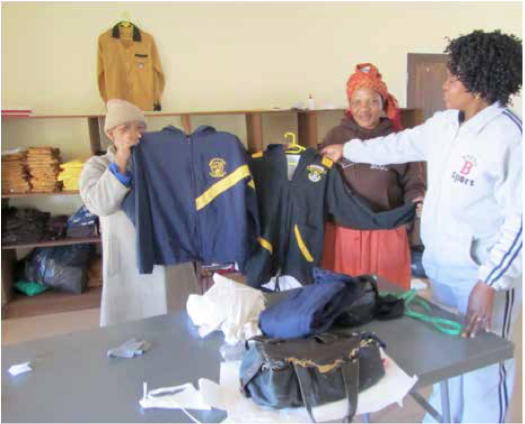 She had been away for 15 years, during which she had learnt how to knit, sew, as well as make soup, juice and cleaning products.
She had learned how to knit at the Peace Knitting School and went on to teach others. Then she worked briefly for the Watts household in Jeppestown, where she learned the art of turning chemicals into soap, bubble bath or dishwasher.
Shortly after her return in 2001 – and encouraged by Annah Phoi, the wife of the local chief - Lebakaeng brought together 112 village women and used her machine and her home to teach them knitting and sewing, while manufacturing uniforms for local schools. The women each contributed R2 per month to keep the business, now known as Tshwaraganang Barolong, going.
Some of the women used their newly-acquired skills to find jobs and others went on to open their own businesses. "We teach them and they become employable or get their own customers," says Lebakaeng.
But in 2003, the then Department of Provincial and Local Government (DPLG) built new premises for the women, getting them ready to play in the big league. The DPLG built them an imposing nine-room structure which has a kitchen, sewing room, knitting room, store room, chemical room and two toilets.
In 2006, the women received a grant from the National Development Agency (NDA), which they used to buy a bakkie, an industrial machine, two overlocking machines, an embroidery machine, fridge, and the raw materials needed for sewing, cleaning and knitting.
At the same time, the Department of Labour and the NDA provided them with lessons in financial management, financial planning, sales and marketing over two years.
"We are proud to be associated with Tshwaraganang Barolong," says Potlako Ntlatleng, NDA North West Provincial Manager. "This is an example of local economic development at its best. The project has created a sizeable number of beneficiaries and a lot of indirect beneficiaries.
"It is also saving locals money by making goods such as juice, polish, uniforms, etc available locally resulting in a saving for community members who would have had to go far to access these goods."
Liver Mpaketsane, Development Manager of the NDA in North West, said since 2012, the NDA had financed 17 community development projects with R13 million. "These projects are catalysts for rural women empowerment. The resilience of these women against all odds will surely pay off if, as government we amplify their services."
Today, Tshwaraganang is a major supplier of uniforms to local schools and churches, as well as cleaning detergents, soup, ice cream and juice to the village. The remaining 10 members are inundated with business, and those who were trained and left are doing well on their own.
For her part, Lebakaeng is a migrant worker who revived the economic life of a sleepy village.