South Africa will use the R3 billion it recently received from the Global Fund to intensify the fight against Aids, tuberculosis (TB) and malaria.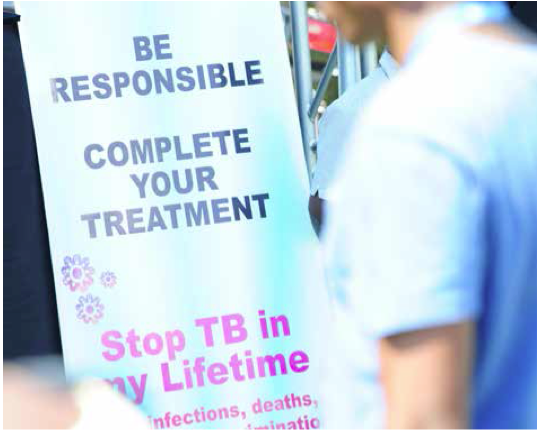 Health Minister Dr Aaron Motsoaledi said 52% of the money, amounting to 1.56 billion would go to the department and the rest to civil society groups working with Aids, TB and malaria.
The Minister said the money would enable his department to target high-risk groups in its quest to stamp out TB.
"We are going to be able to do in all Correctional Service facilities in the country what was done in Pollsmoor Prison. That means every inmate will have to be screened, those who are suspicious will be taken through gene expert, those who have got TB will be put on treatment immediately and their families will be screened. Secondly it's going to help us to decentralize MDR treatment."
According to the World Health Organisation (WHO), South Africa has the third highest burden of people living with TB, behind India and China.
The Department of Health estimates that more than 70% of people with active TB are also HIV-positive. Statistics South Africa has identified TB as the number one cause of death.
But South Africa is facing this challenge, and winning this fight.
"TB was the leading underlying natural cause of death for both males and females in all provinces, except Free State and Limpopo, and among those aged 15 - 64 years," said Statistician-General, Phali Lehohla.
Minister Motsoaledi leads offensive against TB
But Minister Motsoaledi remains optimistic that South Africa will reach its Millennium Development Goal of halving TB infections by 2015.
The Minister has positioned South Africa at the forefront of global efforts to eradicate TB. He has championed the fight against TB in the mining sector throughout southern Africa.
Heads of State from the Southern African Development Community (SADC) signed the SADC Declaration on TB in the Mining Sector, which was endorsed beforehand by their national ministers for health, labour and justice.
Minister Motsoaledi was recently appointed chairperson of the Stop TB Partnership Coordinating Board – an international body which assists in the fight against TB. In accepting this position, he said his vision was to have zero TB deaths and zero new TB infections.
Tabling his departmental Budget Vote early this year, Minister Motsoaledi said the health database had 405 000 families in South Africa who had a member diagnosed with TB.
He revealed that South Africa's TB cure rate had improved from 67.5% in 2008 to 75.9% in 2012.
The target set by the WHO is 85%. "We are steadily but surely moving in that direction," said Minister Motsoaledi.
New strategy fights TB on a global front
South Africa's efforts to combat TB will be boosted by the new Roadmap for Childhood TB towards Zero Deaths adopted recently by the WHO. The strategy aims to save 74 000 children around the world who could die from TB.
The Roadmap estimates that R1.2 billion per year is needed to make a major impact in saving the lives of children, including those infected with both TB and HIV.
The WHO said more than 200 children under the age of 15 die needlessly from TB – a disease that is preventable and curable.
The Roadmap builds on the latest knowledge of the disease and identifies clear actions to prevent these child deaths.
"Any child who dies from TB is one child too many," said Dr Mario Raviglione, Director: Global Tuberculosis Programme at the WHO. "TB is preventable and treatable, and this roadmap focuses on immediate actions governments and partners can take to stop children dying," said Raviglione.
The money to fight TB will come from donors and governments.
The funds will also go towards improving detecting, developing better medicines for children and integrating TB treatment into existing maternal and child health programmes and getting more paediatric health professionals to actively screen for TB with better tools. The Roadmap recommends 10 actions that different countries and global leaders in TB should follow.
The Roadmap requires countries to collect and report better data, including preventive measures and to develop training and reference materials on childhood TB for health workers.
It also calls for local expertise and leadership among child health workers at all levels of health systems to be beefed up.