It was a day of joy and laughter at the Sefako Makgatho Presidential Guest House when President Jacob Zuma hosted elderly men and women for lunch to mark the start of Older Persons Week.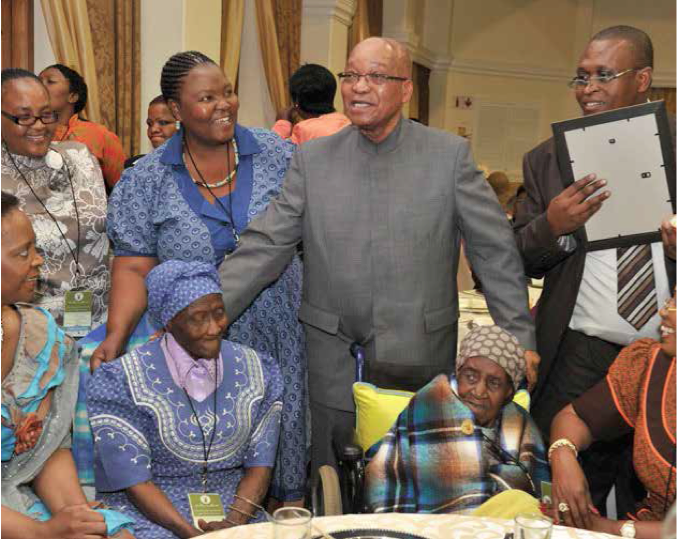 The elderly arrived from all nine provinces of the country - some aided by walking sticks and others in wheel- chairs – but all dressed up in their Sunday best.
Among the guests was 130-year-old Johanna Rametsi of Hammanskraal in Pretoria, reputed to be the oldest person in South Africa. Ramatse was accompanied by her 95-year-old daughter Wilhelmina Phiri.
It was a festive occasion, which saw the President take to the dance floor with some of the elderly, with music provided by the South African National Defence Force band, bringing back memories of youthful days.
The President came bearing gifts - including chocolates, blankets and bath products - to thank the elderly for their contribution to South Africa, bringing smiles to his guests.
President Zuma used the occasion to call on South Africans to respect the dignity of older persons. "We get together this time each year to reaffirm that our citizens are important to this country and should be taken seriously."
This year, Older Persons Week was celebrated from 29 September to 6 October under the theme 'The future we want, what older persons say'. The International Day of Older Persons was celebrated globally on 1 October, a day designated by the United Nations in 1990.
These celebrations are meant to shine a spot- light on the rights of older persons, especially their right to dignity – and to combat the abuse of the elderly. Since the dawn of democracy, government has ensured that every elderly person receives the same old-age grant irrespective of race.
Government has significantly changed the lives of older persons for the better through the provision of free essential services such as water, health, housing and energy in various municipalities and districts.