Following the launch of the Smart ID Card in July, the
Department of Home Affairs has stepped up efforts to open offices dedicated to processing Smart ID applications.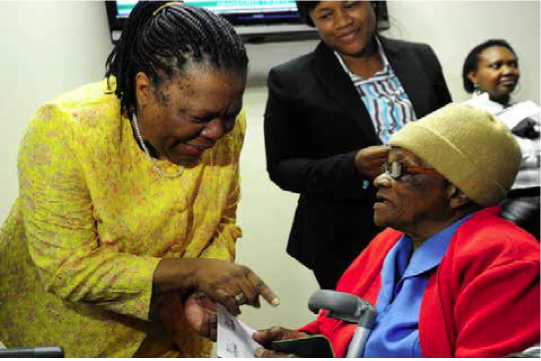 Twenty-six new offices will be opened across the country this month, bringing the total number of offices customised for Smart ID Card applications to 29.
Three offices were opened last month to start issuing Smart ID Cards to members of the public.
The three offices are Byron Place in Pretoria, Harrison Street office in Johannesburg and Barrack Street office in Cape Town.
Home Affairs Minister Naledi Pandor used the opening of the new offices to hand over Smart ID Cards to a number of selected senior citizens to honour their role in the development of the country. This coincided with Older Persons Week celebrated from 29 September to 6 October.
Minister Pandor said the offices had been specially converted to process Smart ID Card applications. "We said that the offices would only be opened to the public once they were properly outfitted with the Live Capture System and servers that are connected to the national database. This has been done."
But the Minister added that the applications would initially be limited to designated groups. "We are starting with a pool of around a 100 000 made up by first time applicants – 16 year-olds who do not have IDs at the moment, senior citizens who are sixty years and over, we wish to focus on some of the leaders in the media who will be invited to enable them to communicate the message of this process with us."
Once all the offices are opened members of the public will be invited to apply according to their month of birth. "We will announce that, I think early next year we will begin that public call per month of birth."
Minister Pandor said Home Affairs staff had undergone training to enable them to handle the new system. "We took staff out for a number of days and we have been training over weekends, we continue to offer training within the premises in the department using the live capture booths."
In a statement, the Department of Home Affairs emphasised that:
Members of the public must wait to be invited to apply in accordance with their dates of birth
The Smart ID Card will be issued free to 16 year-olds
All other citizens are expected to pay R140.
The Smart ID Card is part of efforts introduced since the dawn of democracy to restore the national identity, citizenship and dignity of all South Africans. The Smart ID Card will help to combat identity theft, fraudulent activities related to driver's licences and social grants, among other things.
Meanwhile, the Department of Home Affairs has announced that people who have duplicate ID numbers will no longer be able to use them. To check if you share your ID number with someone else, sms the letter D (for duplicate) followed by your ID number to 32551 or call 0800 60 11 90 or visit your nearest Home Affairs offices for assistance.