Written by Noluthando Mkhize
The people of Eersterust in Pretoria are reviving community spirit by working with government to promote positive social values.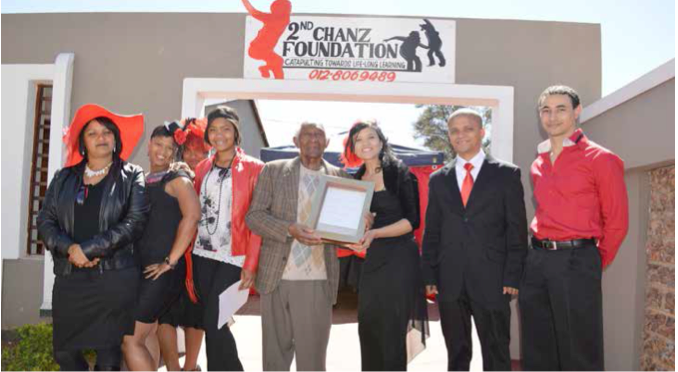 My Kassie 2nd Chanz Foundation is a non-profit organisation established to help the police to fi crime and to involve young people in developing their community.
Since it was established in August last year, the organisation has been the beacon of hope for troubled young people in Eersterust and other areas with high levels of drug abuse.
To date, the organisation has helped about 300 people with opportunities for education and training and helping others to develop themselves and their communities.
Captain Breeda Koopman, a local police officer and one of the founders of the organisation, believes in community work and giving people a second chance.
"As a way of helping young people and giving those that were involved in crime and other youth from the community, we managed to secure five bursaries from the Gauteng Regional City Academy to study at the Further Education Training Tshwane South Institution."
She added that the organisation also invited recruitment agencies to visit the community, which resulted in 30 people getting jobs.
One of the coordinators of the foundation, Bridgette Buys said: "The most common problem is unemployed youth who sell drugs to generate income so that they can take care of their children or parents who are unemployed."
There is also a high pregnancy rate because of the lack of family planning.
Buys says the organisation works with the South African Police Service (SAPS) and the Department of Social Development to tackle social problems.
"We designed a programme called Gazat Make-over Programme – Turn a house into a Home. Our team first assesses the physical structure of the house. We look at the needs and emotional support a family requires and find out which government department can assist in the matter and most of the time we work very well with government."
The foundation consists of a team of unemployed people whose role is to serve the community.
Captain Koopman said the community realised that pointing fingers when looking for solutions was not going to work and decided to look for solutions within. The foundation has representatives in different neighbourhoods of Eersterust who help look closely at problems, as opposed to the community assessing a problem from a distance.
"This approach increases the involvement of neighbours on an interpersonal level by meeting the people where they are at and with what they are comfortable with."
The organisation's achievements include securing a satellite office for government, which delivers services from South African Social Security Agency and Home Affairs, making state services more accessible to the community.
My Kassie 2nd Chanz Foundation was also a finalist in the South African Fundraising Awards in the small budget, big idea category.
Further plans include a mobile neighbourhood training and self-development centres, but the organisation will rely on private sector funding for this.
Captain Koopman called on other communities to build the nation, saying it is up to every South African to make the country better.