Written by Samona Murugan
The 16 Days of Activism of No Violence against Women and Children campaign will run from 25 November to 10 December to heighten efforts to protect women and children from violence. The campaign, now in its 14th year, is headed by the Department of Women,
Children and People with Disabilities  (DWCPD).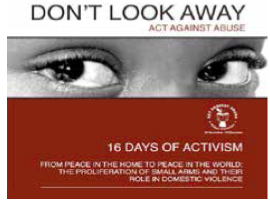 This year the department calls on all South Africans to play their part in stamping out violence in their homes and communities. According to DWCPD Deputy Minister Hendrietta Bogopane-Zulu, all South Africans should ask themselves the following questions. "Am I an abuser? Do I beat up my wife or husband? Am I a good role model for my children? South Africans should use these 16 days to reflect on themselves and their behaviour. "Change begins at home," she said.
One of the campaign's major achievements this year is the launch of the Zazi Know Your Strength programme which targets teenage pregnancy in the country, and derives from the Nguni word meaning know yourself. The programme encourages young women to take charge in the prevention of HIV, draw on their inner strength and create the life they want to live - an HIV-free life.
Zazi will be rolled out in the Gert Sibande district in Mpumalanga, an area where it is common for old people to have sex with young girls, resulting in teenage pregnancy and a high HIV prevalence amongst young girls, revealed the Deputy Minister. "The ratio of infections amongst girls aged between 10 and 18 is 1:1. This means that every second girl over the age of 10 is HIV positive, and the majority of the girls have had terminated pregnancies more than once."
To raise awareness and tackle the challenges facing the community, DWCPD together with the department of health, has sent officials to work in the community to educate young girls on HIV prevention.
A massive green ribbon of hope will be launched symbolising communities uniting to tackle social ills that affect children and young women. The department also called on men to stand up and join the Brothers for Life campaign - a band of brothers who inspire men to stand up against abuse.