Written by Edwin Tshivhidzo
The newly-built Tshantshala Senior Primary School (sps) in Gugwini village, just outside Lusikisiki, stands as a beacon of hope for the local community as they know that their children now have a decent place to learn.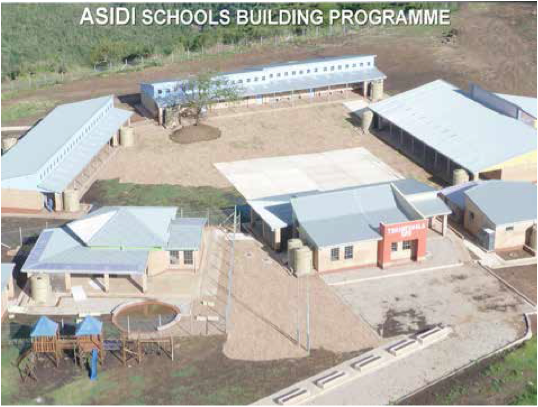 The new school boasts, among other things, 14 classrooms and two water tanks. It cost of R9 million.
Prior to the school being opened, learners in Gugwini used to travel more than 10 kilometres to attend school in neighbouring villages.
The school currently has 134 learners and four educators. One teacher is permanent and three are temporary.
Deputy Minister of Basic Education Enver Surty told the locals he had no doubt in his mind that building the school in the area was the right thing to do.
"Government took a decision that no child should continue learning under trees or in mud schools. Education is the only way to break the cycle of poverty. Poverty should not be an excuse not to study further," he said.
Deputy Minister Surty urged parents to encourage their children to stay in school, and play an active role in their education.
Tshantshala joins the list of brand new schools that have been opened as part of the 'One school a week' campaign, which has seen the opening of Notsolo SPS, Mqokolweni SPS and Ndlovayiphathwa SPS, among others, as part of the programme.
In total, 16 schools have been built and handed over.
The Deputy Minister told local communities that government was also committed to ensuring that every child attends school.
"Our task as government is to ensure that what happens in the classrooms is supported by parents and the community at large."
A teacher at the school, Zandile Magobongo, said the new building had made teaching more exciting.
"In the past, we used to teach under difficult conditions. The learners were crammed in one classroom and they were unable to concentrate."
Magobongo said the learners were now more interested in learning.
Before the school was built, the learners were housed in a local church after the structure that they were using was blown away by strong winds.
A parent who has two children at the school, Masisile Manzhele said she was happy with the school.
"I'm happy that my kids will learn in a safe environment and that they will no longer have to travel to neighbouring villages for school," she said.
A Grade 3 learner at the school, Siphokazi Mbele, was excited to be in the new school.
"I want to be a teacher when I finish school," she said.
ASIDI
About 50 schools are to be built through the Accelerated School Infrastructure Delivery Initiative (ASIDI). The schools will accommodate more than 10 000 learners in the Eastern Cape where President Jacob Zuma has already opened four schools.
ASIDI aims to replace inappropriate school structures, address basic services backlogs and the provision of these services. It forms part of government's 13th Strategic Infrastructure Project (SIP), which relates to the rebuilding of schools.
Before 1994, South Africa had a large number of schools without water, sanitation and electricity, the bulk of the challenge being in the Eastern Cape.
The R8.2 billion public-private ASIDI programme aims to eradicate the 496 mud schools in the country, provide water and sanitation to 1 257 schools and electricity to 878 schools by
March 2016.
As part of the national ASIDI rollout, mud schools in the Eastern Cape will also be replaced with more appropriate structures, and schools will be upgraded to optimum functionality through the provision of core spaces such as libraries, laboratories and administration blocks.