Written by Noluthando Mkhize
It's been almost 20 years since the historic elections of 1994, which gave all South Africans the opportunity to have their voices heard.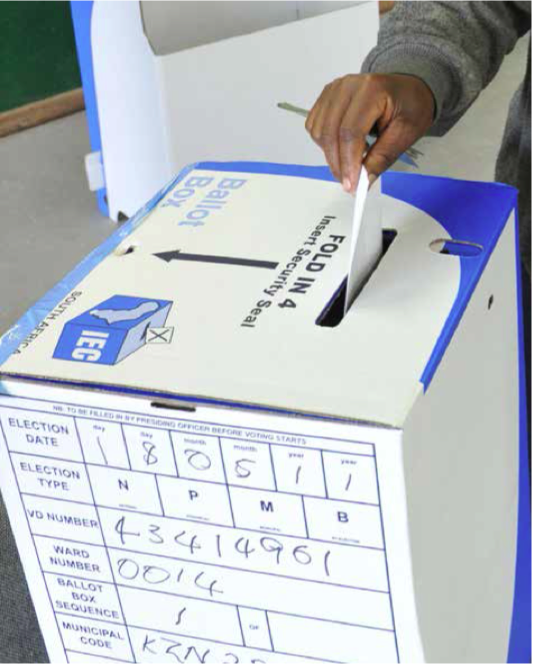 By casting their votes, South Africans elected a government of their choice, which has helped improve their quality of life over the past two decades.
Citizens will have an opportunity to strengthen the country's democracy by making their mark at the ballot box next year. But they will only be able to do so if they are registered to vote.
Nineteen-year-old Ntombikayise Tshabangu is one of those looking forward to casting her vote for the first time in next year's election.
To qualify as a voter, Tshabangu must first register on the voters' roll. She is one of the young people born at the dawn of our democracy and targeted by the Independent Electoral Commission (IEC) in its registration drive. Tshabangu says next year's elections should be very significant, especially for those born after 1994".
"We are the first generation to benefit from the freedom and democracy our parents fought for. We are the ones who now carry the hope for a better life in a country where everyone can enjoy the fruits of liberation. We are now participants in a real democracy."
But a study conducted in May by the IEC and Statistics South Africa found that only 10% of 18- and 19-year-olds in the country were registered as voters.
By the end of September, only 162 250 people in this age group had registered on the voters' roll, according to the IEC.
The IEC will pay special attention to this age group in its drive to increase the number of people who qualify to vote in next year's election from 23 million to 25 million, the largest number of voters since 1994. Eligible voters have a chance to register at voting stations from 9 to 10 November. Voters can also register at Municipal Electoral Offices during office hours.
According to the IEC website, the largest number of registered voters on the voters' roll are between the ages of 30 and 39, representing more than five million people.
This group is followed by those aged between 20 and 29, representing over 4.5 million registered voters.
The IEC has appealed to those who have moved to other areas to reregister and become eligible to vote in their new residential areas. The message for the upcoming elections is "2014 Elections: I vote South Africa - 20 years of Democracy."
Tshabangu, a second-year marketing student at the Tshwane University of Technology, who hails from Mpumalanga, says she is very happy to be casting her vote for the fi   time, especially since the country is celebrating its 20-year anniversary of democracy.
"It is very important that everybody casts their vote as every single vote makes a difference."
She went on to say that voting was important as it gave every citizen a chance to influence how the country is run.
"We choose leaders who can relate to our ideas and believe in our beliefs. Our leaders should have a progressive mindset. I think it is important to weigh the issues, the candidates and to choose the best person for the job."
The IEC has said there will be 22 264 voting stations compared to the 20 859 in the 2011 local government elections.
The IEC has increased its voting station network by 9.4 % as compared to the 2011 local government elections.
The IEC says that the number of people on the voters' roll had risen by 21.3% since it was first compiled in 1998.
Registering to vote
You only have to register once as a voter, unless you move or your voting district changes.

To qualify as a voter, you must be a South African citizen, be at least 16 years old and have a green, bar- coded ID book or a Smart ID Card.

You can either register to vote in the voting district where you live or apply for registration at your local Municipal Electoral Office during office hours, but you must phone first to arrange a time. You can't register at the IEC national or provincial offices.

You only have to re-register when your home address changes or when the IEC informs you that the voting district has changed.

You can check your registration de- tails by sending an SMS with your ID number to 32810 or using the IEC's voter registration web page.