Written by Hlengiwe Ngobese
The old saying 'sink or swim' is a thing of the past for youngsters enrolled in a free swimming programme.'sink or swim' is a thing of the past for youngsters enrolled in a free swimming programme.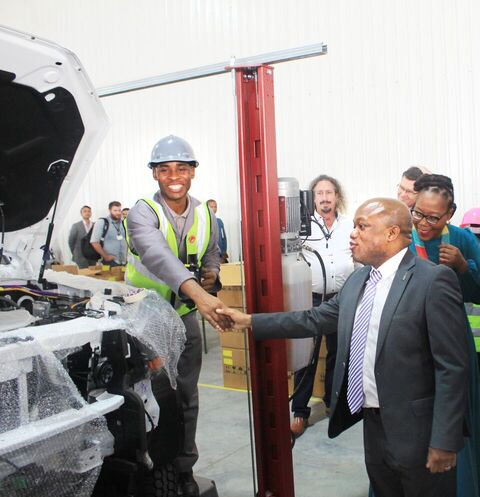 Twenty-five young people from KwaZulu-Natal are set to benefit from a new R95 million Mahindra plant which will manufacture a new range of double cab bakkies called Pik Up on the outskirts of Durban.
The staff received training in partnership with global Mahindra and Mahindra group and AIH logistics.They will be sent to India for further training where required.
The trial production of the facility is underway with an estimated 2 000 vehicles planned to be produced annually, eventually leading to 4 000 vehicles rolling off the assembly lines a year.
"The investment is good for business confidence.lt continues to show that KwaZulu-Natal is a conducive place for investors. lt also sends a message to those who remain reluctant that Durban is a place to consider when it comes to investment," said MEC for Economic Development, Toursim and Environmental Affairs Sihle Zikalala.
He said the initial employment opportunities generated in this enterprise would contribute to the expansion of the skills base in the province.
One of the employees is engineering graduate Sthembiso Mthembu who said he is very happy to have a job.
"I have been sitting a home for a year without getting any employment. This opportunity has helped me to provide for myself and family. Although l have a mechanical engineering degree l didn't know much about assembling a car. The training they gave us helped us to gain confidence and expertise," he said.
Mahindra's Chief of International Operations Arvind Matthew said the company aims to source 40 percent of the components for the Pik Up bakkie from local suppliers.
"The assembly of the Pik Up is the first step in our long-term plan that will see us increase employment and local sourcing in KwaZulu-Natal," he said.