In 1998, he became the director of KwaZulu-Natal's Asiphephe (Let us be safe) Road Safety Project, a sub-directorate within the provincial Department of Transport. "Our task was to reduce the number of road crashes that have led to so many deaths and cases of disability," he says.
Zulu took time out of this busy schedule of being a motivational speaker and being involved in road safety campaigns to speak to Vuk'uzenzele. The father of two daughters, Swazi (8) and Ziyanda (5),says the disability has changed his life in a sense that it's difficult to never walk again." Then he jokes: "The nice part is that my shoes never go old." 
He remembers the night of the accident clearly. "I was young and careless. I hit a wall as a result of speeding. Now I tell people never to speed. They should only speed in their minds."
Life changed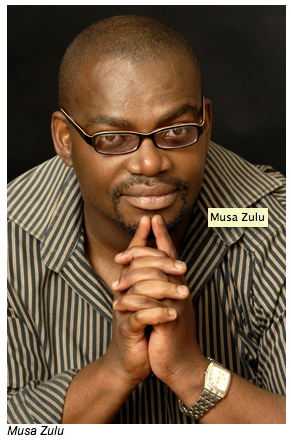 At the time of the accident, he was working for Tongaat Mushrooms as senior personnel manager. A week before the accident, his employer informed him that he was earmarked for a promotion at head office in Johannesburg. Things were going very well for him as he was also talking to his partner about getting married. 
But then his whole life changed and things were very hard after the paralysis. He lost his job (early retirement) and his girlfriend of two-and-a-half years left him. "Suddenly, all was gone and tears formed a veil through which I viewed life. I did not want to believe that it happened to me.
"After a full year of pain and wishing for a miracle, I realised that my family and close friends were beginning to lose hope that I would ever find a reason to smile again. My sorrow was affecting them as well, especially my father. I pulled myself together and vowed never to bow to failure again."
Zulu says that listening to music gave him strength. Seeing other disabled people striving to live full lives made him want to achieve the same.
Social science
Zulu has always had great enthusiasm and energy for life. In 1989 at the age of 17, he started his university studies in social science. 
"I have always been attracted to community development initiatives and issues. Social science offered me the opportunity to study my society and understand its dynamics. My wish was to make a difference, particularly to the marginalised black population whose lives have been disrupted by years of political oppression," says Zulu.
He left the university towards the end of 1994 to join Tongaat Mushrooms. During his brief stay there, he initiated many changes that uplifted workers. "I was paralysed shortly after completing the job descriptions of all employees – an exercise that saw many employees receiving improved salaries because of a well-defined job grading system. Then came the accident.".
In 1998, he visited the State of Victoria in Australia to see how they dealt with road crashes. This was part of the Department of Transport's research prior to launching its Road Safety Campaign. "Apparently the state has one of the lowest road death/crash records in the world," he says. While there, he met people from various disability organisations to learn from them how they assisted their government to meet the needs of the disabled.
Zulu says: "Before the end of 1998, I was part of the Department of Transport's team that launched the first buses for the disabled – fully equipped with hydraulic lifts to provide easy access. Three of these buses are in operation in KwaZulu-Natal." He left the provincial Department of Transport and the Public Sector in 2002. 
Happiness revisited
He has since joined forces with his disabled friends and formed a support group. "Happiness revisited me. I found myself wanting to win back my sense of independence and control." He bought a car and started visiting newly disabled people in hospitals.
 "While I was in hospital my father told me that everything happens for a purpose. I did not know what he meant then, but today I have found my purpose in life – to show the world that there is always a bright sky after a storm if we believe," concludes Zulu, now 39 years old.
"I have found a 'home' in my situation of disability. There is nothing that I cannot do. I have grown and matured as a result of the accident. I am truly blessed. I don't live with regrets and my advice to people is to love life and be safe."
-Refilwe Thobega