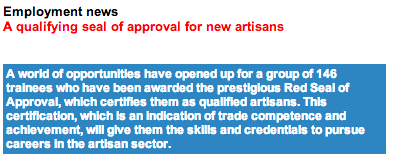 The graduates, who were part of the Gauteng Department of Infrastructure Development's Accelerated Artisan Training Programme, successfully completed their theoretical and practical technical training, including trade tests in trades such as boiler-making, welding, electrical and fitting and turning. 
They will also sit for assessments on plumbing and motor mechanical trades in 2012.   
Workplace training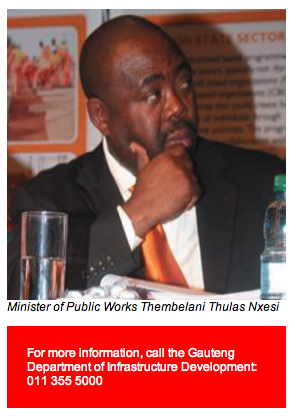 These young unemployed people were part of a group that went through a full 18-month programme that started in 2009. They were exposed to 56 days of workplace training after a 24-week theoretical training block presented by accredited training providers. 
They were allowed a five-week period to prepare for two days of rigorous trade test exams.
Training providers included Fundi Training Centre, SAJ Competency Training Institute and Industry Education Training Institute.
Job opportunities
The Gauteng Department of Infrastructure Development (DID), as a lead department for projects in the Gauteng Expanded Public Works Programme, is implementing the Artisan Technical Training and Development Programme. It has a mandate to recruit, train and place artisans at Further Education and Training institutions for training purposes. 
The programme further involves workplace exposure at institutions within the public and private sector to give beneficiaries access to on-the-job training. 
The department also enters into liaison partnerships with participating institutions in both sectors for possible commitment to absorb the participants as they exit the programme. This has given graduates access to job opportunities in those sectors.
Essential maintenance
Plans are underway to place 86 of the newly qualified artisans in various DID regional offices to render essential maintenance to public infrastructure in the province. The 86 include 59 electricians, 17 fitters and turners, two welders and eight boilermakers. 
The department is confident that the private sector will also absorb this new cadre of artisans by offering them job opportunities.