Many of the young children and the elderly in their community sometimes went days on end without a decent meal, but thanks to a group of women who decided to reach out to their community, they can now always count on having a meal every day. 
The group of women form part of the Kgolagano Home-Based Care Group situated in the heart of Mokgalwaneng in the North West. Here they visit various ill and needy patients and children in the community and offer counselling services to patients with TB, HIV and AIDS. As part of helping others for Mandela Day last year, the women decided to bake bread for their patients, carrying out the baking in an old clinic. 
The gesture was an instant success. Word soon got around and the women found themselves flooded with orders to bake more bread to meet the needs of the community.  
According to chairperson of the group, Martha Mmamontiane: "The bakery project grew to our patient-feeding programme. During home visits to our patients, we found that most of them went through the day on an empty stomach, so we decided to bake bread to give to those who truly needed it." 
Once other residents in the community heard about the bakery, orders for bread came rolling in. "We got more and more orders every day," said Mmamontiane.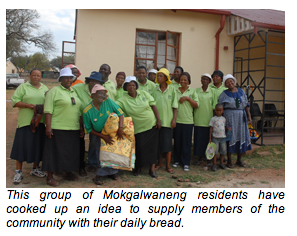 New premises
The project operated in the old Linchwe Clinic, given to them by the local traditional council, but the building soon became too small as the orders increased. 
The group realised they needed a much bigger premises to bake more bread and to expand the project to catering as well. They group knocked on every door for assistance; spoke to various community leaders and approached their local municipality. Their prayers were eventually answered by the Department of Economic Development and Tourism who approved and funded a site to build a new, bigger premises for the project. 
Today, their new premises is complete and a new and improved home-based care is in operation. The building is big enough to accommodate all the services they offer and will also allow them space to have more beds and fit in a relaxation area for patients. 
  
Business spill-offs 
According to community liaison officer, Rathotwana Matlou, the project not only created jobs, but also created business opportunities for three local tractor owners who were contracted to transport building material.
Portia Moeng, a local labourer on the project, said, "I'm grateful for the opportunity because I am now able to do things that I would otherwise only dream of. I am going to buy myself a new bedroom suite."
-Samona Murugan