It took Presidential Hotline staff just three days to resolve a problem that had dragged on for 18 months. Mr Andreatta of Edenvale in Gauteng had been wrongly penalised by the South African Revenue Services (SARS), who alleged that he did not submit his tax returns.
For almost a year and a half, Mr Andreatta tried to negotiate with SARS after they penalised him for failing to submit his tax returns when in fact he had done so.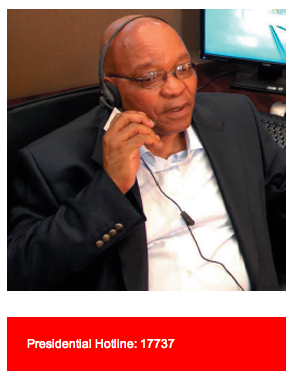 Deductions
To add insult to injury, SARS had proceeded to deduct R10 000 per month directly from his salary in December 2010, thus ruining his Christmas. The deductions continued in January and February 2011 for a total of R30 000 for penalties for non-submission of returns that have already been assessed.
However, Andreatta's tax assessments had indicated that he was due for a tax refund of R20 000 and SARS ended up owing him more than R50 000 inclusive of the R30 000 in wrongly deducted penalties.
"I alerted SARS to the fact that I had been up to date with my tax return submissions and for 18 months they kept saying they were looking into the matter. I was promised a solution by many different people from SARS including a legal representative and a commissioner," remarked Andreatta.
Sorted
As a last resort, he approached the Presidential Hotline for assistance.
"In three days, the problem I had been struggling with for 18 months had been resolved; SARS owned up and admitted that they were wrong. We are now trying to work out how much will be paid back to me," said Andreatta.
In addition to his problem with SARS, the Presidential Hotline also helped Mr Andreatta to resolve an issue with the Department of Home Affairs.
-Mbulelo Baloyi